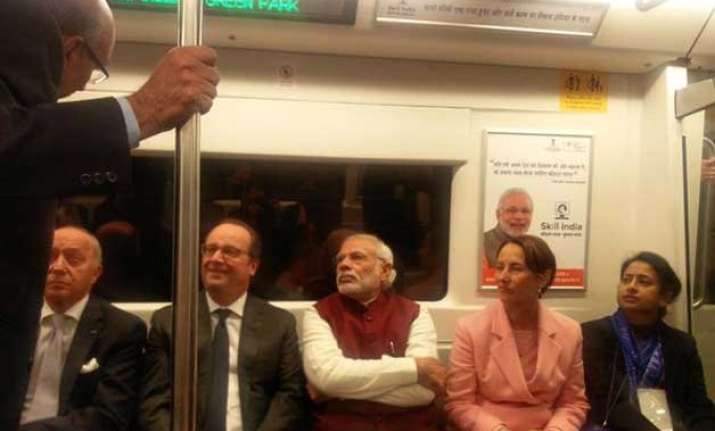 New Delhi: Prime Minister Narendra Modi and French President Francois Hollande today made a statement promoting eco-friendly modes of transport when they took the Delhi Metro to travel to Gurgaon to inaugurate the interim secretariat of the International Solar Alliance (ISA).
 
PM Narendra Modi's official twitter handle 'PMO India' tweeted the images of Modi-Hollande's metro ride. "On board the Metro, headed to Gurgaon," the tweet said.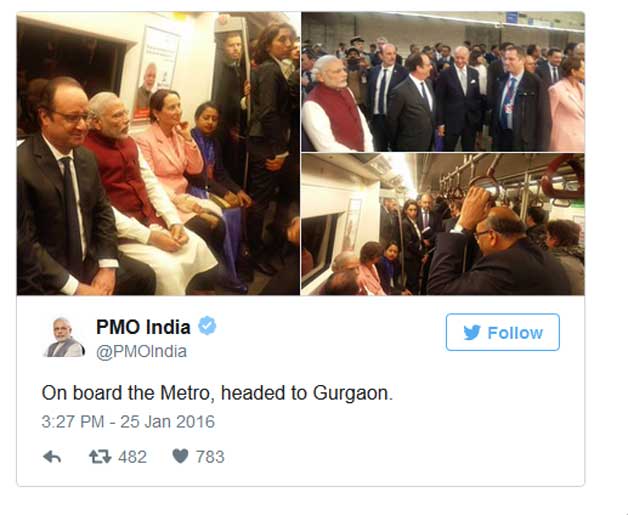 A special train was arranged to facilitate movement of PM and French President in close coordination with security agencies. They boarded the train from Race Course to Arjangarh station at 3:16pm and then again boarded the train back from Gurudronacharya to Jorbagh station at 5:20pm. Normal train operations were not affected during this to and fro movement.
 
The ISA is an initiative launched by Hollande and Modi at the Climate Change summit that was held in Paris last year. It seeks to expand the use and development of solar energy all over the world. PM Modi expects ISA to work like a giver to mankind.
French President Francois Hollande, who is on a three-day visit to India, will be the Guest of Honour at the Republic Day parade at Rajpath tomorrow. A slew of deals promoting cooperation between the two sides across sectors have been inked during the visit so far.