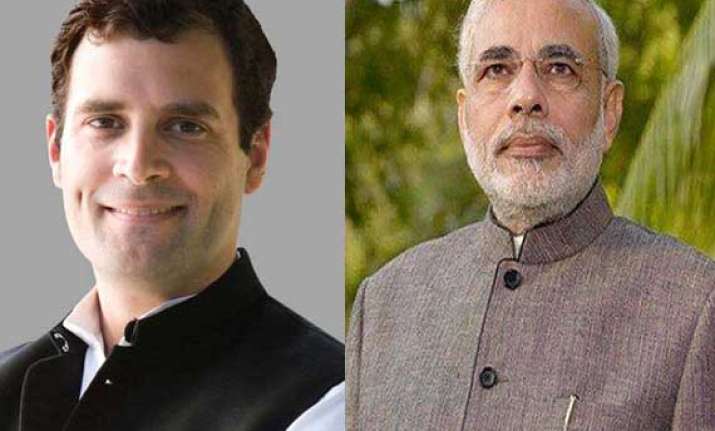 New Delhi: On a day Rahul Gandhi accused him of being a "liar", Narendra Modi today hit back saying the Congress leader was making "false, dirty and unverified" allegations and asked him to remain "within limits".
Modi also challenged him to come out in the open to answer to the people on the Congress government's performance and not "run away".
The BJP Prime Ministerial candidate sought to link a "close aide of 10, Janpath" (Sonia Gandhi's residence) to a meat exporter, whose premises were raided by tax authorities, and alleged that "money deals" were involved between them.
He also charged the "Mother-Son (Sonia-Rahul) government" of "saving" Hassan Ali, a Pune-based businessman, in an alleged blackmoney case.
"Brother Rahul, whatever lies you are continuing to speak, crossing all limits. You have nothing positive to say about yourself, your mother or about your government. That is why you are making all false, dirty and unverified remarks... "Keep things within limits. We do not talk while breaking limits. Come out in the open and give an account of the work of your government. Why are you runing away," Modi said in his address through 3D hologram technology.
Modi's attack came hours after Rahul said in Gujarat that the Gujarat Chief Minister "does not get sleep till he speaks some lies".