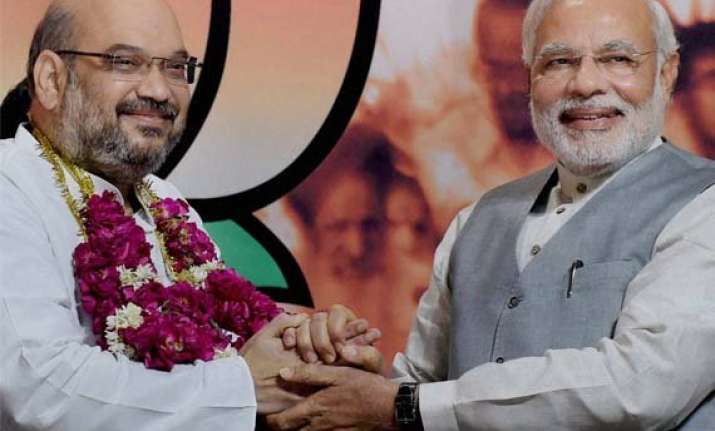 Indore: The BJP in-charge for recently held Haryana Assembly elections, Kailash Vijaywargiya has said that synergy of "charisma" of Prime Minister Narendra Modi and perfect strategy employed by party president Amit Shah reaped bumper harvest of seats for BJP in the northern state.  
"The presence of charismatic personality like Prime Minister Narendra Modi and strategic planner like Amit Shah made even the Herculean task quite easy.
We were only supposed to implement their schemes," Vijaywargiya, who holds Urban Administration and Development portfolio in Madhya Pradesh government, told reporters here last night after returning from Haryana.
BJP came out with flying colours in Haryana, wresting it from Congress by lapping up 47 seats in the 90-member House.  BJP's challengers the Indian National Lok Dal (INLD) and Congress decimated to 19 seats and 15 seats, respectively.  
"Initially, we thought that in a state like Haryana, where even the party's basic infrastructure was not in proper shape the task will be difficult.
But after party workers from Madhya Pradesh, Punjab and Himachal Pradesh worked hard up to booth level, along with party workers from Haryana, we gained confidence in the last phase that we would be able to form government there," he said responding to a query.  
Vijaywargiya said that BJP workers, especially from Madhya Pradesh, worked hard to get BJP the massive mandate.  When asked about the situation in neighbouring Maharashtra where BJP has emerged as the single largest party but fell short of clinching majority in 288-member House, Vijaywargiya said the party's base and seats have doubled there.  
He said BJP would like to associate with its old ally Shiv Sena in formation of government.
"The party leadership will take appropriate decision (whether to take Sena on board) after discussion," he added.
Parrying a query on whether his name is in reckoning for chief minister of Madhya Pradesh in future, Vijaywargiya said, "The biggest post in an organisation is that of a party worker and I take a lot of pride in remaining as BJP worker."