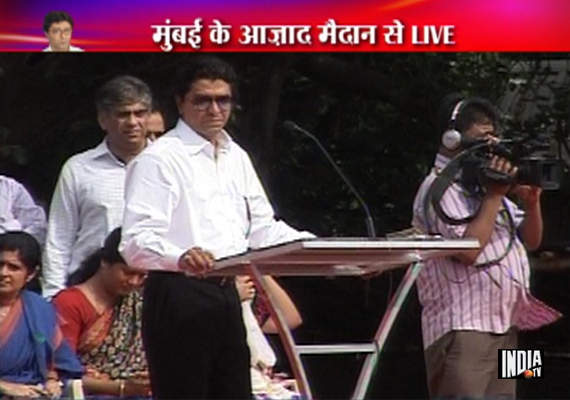 Mumbai, Aug 21: Maharashtra Navnirman Sena supremo Raj Thackeray on Tuesday launched a  scathing  attack on Maharashtra Home Minister  R R Patil and Mumbai Police Commissioner Arup Patnaik, demanding their resignations in the wake of the Azad Maidan violence in which three people were killed and more than fifty  were seriously injured.
Leading a march of nearly 50,000 supporters from Mumbai's Girgaum Chowpatty to Azad Maidan, Raj Thackeray addressed  a large gathering and hit out at the Congress-NCP government for "bowing down" to mischief makers.
"I believe in Maharashtra dharma, no other dharma", declared Raj Thackeray scotching speculations that he was changing tack towards Hindutva.
Thackeray said, his party would not tolerate any attack on policemen, whichever religion or caste they belong to.
Today's procession, he said, was to boost the morale of Mumbai policemen, who were downcast since the Aug 11 violence in which anti-social elements belonging to a community killed 3 persons, including a police officer, set fire to vehicles of  news channels and molested a policewoman.
Raj Thackeray said, Mumbai police officers beseeched the commissioner to allow them to lathicharge the anti-scoial elements, but were not given orders.
One one hand, ACP Vasant Dhoble raids bars with hockey sticks and beat up youngsters, and on the other hand, they turn a blind eye to anti-social elements, said the MNS chief.
Thackeray blamed Bangladeshis and outsiders for fomenting violence in Mumbai. He said, the Babri mosque was demolished in UP, but there was violence in Mumbai.
"There was violence in Assam, but it had its repercussions in Mumbai, and whatever happened in Mumbai had repercussions in Lucknow", he said.
Thackeray said,  Mumbai police tried its best to prevent him from taking out a procession fearing violence today.
"I had to ring up the Chief Minister to say that my vehicle was being stopped every now and then by police", Thackeray told the gathering.
"On the other hand, police were mute spectators when some leaders held a meeting in Bhiwandi and  several people were assaulted", said Thackeray.
The government had shut its eyes to the intelligence warnings on the massive scale of the agitation and the numbers of people present there, said the MNS chief.  
Stating that the police was forced to bear the brunt of the violence, Thackeray said, "There is a boundary that must not be crossed…the police in the state should not be touched. This demoralization of the police force would not be henceforth tolerated."
On Aug 11, Muslim  agitators,  led by a city-based Sunni Islamic group, the Raza Academy, had gathered in large numbers to protest what they called  atrocities committed on Muslims in Assam and Myanmar. The meeting erupted midway into an intense outburst of violence and vandalism  resulting in widespread arson and stoning.
Thackeray singled out the Mumbai Police Commissioner, accusing him of showing leniency to the rioters by abusing his own DCP and demanded as to why the state government had not yet announced any compensation for the injured policeman and female constables after the 11 August violence.
"Arup Patnaik did not give the MNS permission to hold this [today's] rally condemning the violence, but the 11 August rally by Raza Academy was granted permission," he said.
"A few years ago the Academy had organised a similarly violent agitation in Bhiwandi where Samajwadi Party legislator Abu Azmi had delivered an inflammatory speech."
There were countless people from Bangladesh and Pakistan milling in the state,  Thackeray said, brandishing a single-entry Bangladesh passport ostensibly recovered from the site of the violence in front of the jam-packed audience.
He remarked that the Azad Maidan incident proved that the ruling Congress-NCP coalition used the minority sections in the state as mere vote-banks.
Referring to similar attacks on the police and the media in Uttar Pradesh,  Thackeray questioned the silence of Dalit leaders on the issue.
The rally, that saw a massive outpouring of MNS workers, began from  Girgaum Chowpatty and ended at Azad Maidan.