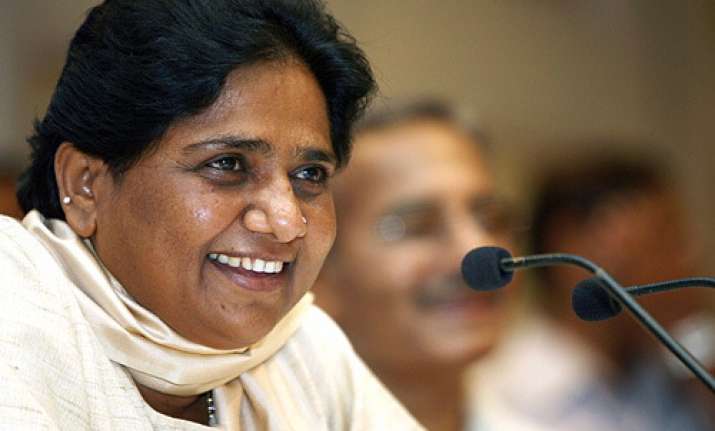 Lucknow, Nov 29:  Uttar Pradesh Chief Minister Mayawati, whose BSP drew a blank in Bihar Assembly polls this time, today said the NDA's return to power in the state was not due to development but owing to the faulty strategy of RJD-LJP combine.
"The BJP-JD(U)'s return to power in Bihar was not due to development but due to the faulty strategy of Lalu Prasad Yadav and Ram Vilas Paswan," the BSP supremo told reporters here today.
Speaking at length about her achievements in Uttar Pradesh after coming to power in 2007, Mayawati claimed not much progress had taken place in Bihar under
Nitish Kumar
and said relating his victory with development was not fair.
"It is not fair to say that the BJP-JD(U) alliance got vote on the basis of issues and not castes and other factors", she said.
Finding faults with the RJD-LJP poll strategy in Bihar she said Lalu and Paswan should not have announced candidature of Chief Minister and Deputy CM and promoted nepotism.
Mayawati said the 15-year misrule of Lalu was also a factor that created a wave in favour of Nitish, which also affected BSP adversly at the hustings.
BSP, which had bagged four seats in the last Assembly polls in Bihar failed to open its account this time.
Mayawati accused the opposition parties of relating a routine meeting on law and order called by her recently to Bihar Assembly poll results, terming it as just a propaganda.
"It's the opposition parties' propaganda to relate law and order review meeting called by me on November 27 to Bihar polls. This is not true", she said.
She said the meeting was convened only to discuss law and order in the state and had nothing to do with the poll outcome in Bihar.
After the meeting was held on Saturday, opposition parties, including the BJP and Samajwadi Party, had said the BSP's poll debacle in Bihar had prompted her to call it.  PTI