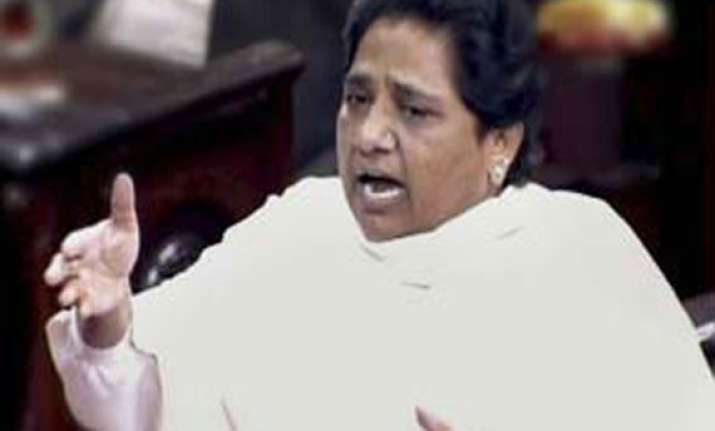 New Delhi, Dec 6: Easing the situation for the government in the Rajya Sabha, Bahujan Samaj Party (BSP) chief Mayawati Thursday said her party will vote in favour of the Congress-led UPA government on the issue of foreign direct investment (FDI) in retail.
Speaking during the debate on retail FDI in the upper house, the BSP supremo accused Bharatiya Janata Party (BJP) of double-speak and communalism, saying that she did not want to vote with them.
The BSP leader hit out at BJP for targeting her party over its stance on FDI in multi-brand retail and said the main opposition party's stance was like a "fox" who cannot reach grapes and terms them sour. A war of words then broke out between BSP and BJP members, forcing a ten minute adjournment.
When the house resumed after the break, Parliamentary Affairs Minister Kamal Nath defended the BSP leader, saying none of her comments were "unparliamentary".
Mayawati then declared: "The BSP has decided to vote in favour of the government."
The Congress-led government is in minority in the Rajya Sabha and was falling short of numbers to win the vote that is to follow the debate. However, with the support of 15 BSP MPs, the government can come clean if the Samajwadi Party (SP) does not vote.
SP leader Naresh Agarwal had said this morning that his party would "definitely not vote for the government on the FDI issue in the Rajya Sabha".
During the debate in the house, the SP leader contended that "FDI will kill the farmers and destroy the livelihood of small traders. This is a black law (kaala kanoon) and should not be passed. The government must rethink this proposal".
However, the SP had said it would oppose the government in the Lok Sabha as well, but ultimately walked out of the lower house, helping the government. In the Rajya Sabha as well, support from BSP and abstaining or walkout by the SP could help the government win.
The situation will be difficult for the government, however, if SP decides to vote against it.