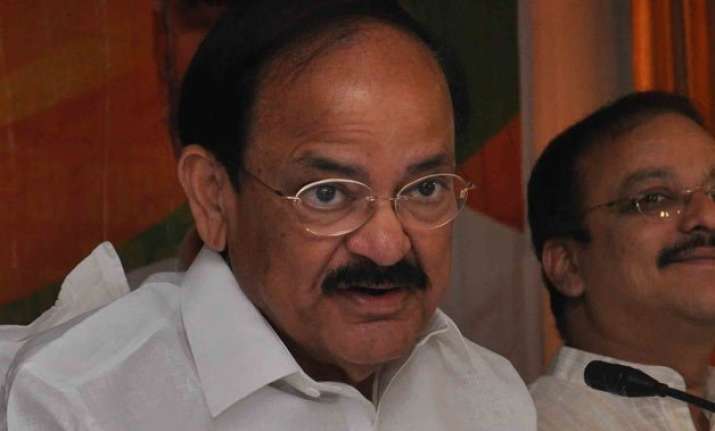 New Delhi: Union Parliamentary Affairs Minister Venkaiah Naidu has said that he won't rule out calling a joint sitting of the Parliament after Budget session to ensure 'smooth' passage of the contentious Land Bill. 
He said that there are provisions available in the Constitution and the precedents set by the previous government.
Speaking to Times of India, the Union Minister said, "Of course, there's a provision in the Constitution for a joint sitting, but first of all I have to exhaust the discussion in the Rajya Sabha."
"I am ready to remove the (Opposition's) misgivings if any. If this doesn't work, a joint sitting is very much there in the Constitution, there are precedents," he added.
The Lok Sabha had on March 11 passed the Right to Fair Compensation and Transparency in Land Acquisition, Rehabilitation and Resettlement (Amendment) Bill, 2015, with nine amendments. But the government refrained from tabling the bill in the Upper House where it is in minority.
Naidu said that the government was aware of the fact that the ordinance, if not converted into legislation by April 6, would lapse. 
"Government is keeping this in mind and will take appropriate action," he noted.
The Union Minister further said that Prime Minister Narendra Modi has made it clear that if there are concerns even after nine amendments, the government is ready to meet them. 
"If there are well meaning suggestions which are practical in nature without compromising on the basic purpose of the act, the government is open to ideas," he said.
The leader also made it clear that almost all senior ministers have approached all political parties to bring them onboard.
"Of course, if you only want formality, this can be done. But let me inform you that the Home Minister, External Affairs Minister, Finance Minister, Urban Development Minister, Surface Transport Minister, met almost all political parties and had detailed discussions," he said. 
Claiming that the bill is pro-farmer and pro-poor, he appealed to all political parties to support the bill as it will accelerate the growth and make farmers part of the developmental process.
He also said the government was ready for a nation-wide debate on the Land Acquisition Bill.