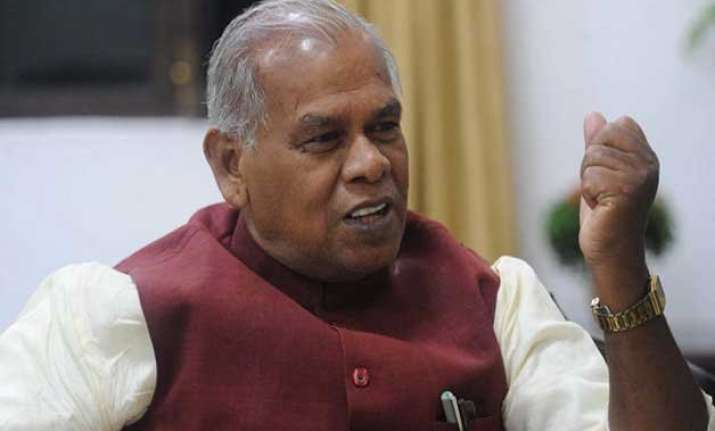 Patna: Staying away from making any announcement about much touted formation of a new political party, former Bihar Chief Minister Jitan Ram Manjhi today sought "punishment" for Chief Minister Nitish Kumar for overturning his decisions taken for public welfare, and asked the people to "avenge it through ballot".
"Kumar should be handed over punishment for canceling the several measures taken by me for the welfare of the poor, downtrodden and the weak. He has done an injustice and you (the people) should avenge it through ballot," Manjhi said.
The former Chief Minister was speaking at "Garib Swabhiman Rally" convened by Hindustani Awam Morcha (HAM), a front formed by him and other JD(U) rebel leaders, at the historic Gandhi Maidan here.
As the main leader of HAM, Manjhi was expected to make a major announcement about the formation of a new political party and plans to contest the upcoming state elections at today's rally.
He had earlier expressed his desire to stake claim to the arrow symbol, as well as, green and white flag of JD(U), but purportedly stopped short from announcing the new party as the six Janata Parivar parties including JD(U), RJD, SP, INLD, JD(S) and SJP, have not declared their new name, symbol and flag after their merger last week.
Opening a full-fledged front against Kumar, Manjhi said, "He (Kumar) will implement my public welfare decisions if he has even an iota of sensibility, otherwise we will not let him rest peacefully."
Manhji said welfare schemes brought by him for teachers, women, dalit housing, policemen and others were cancelled with an excuse that the state had no money to implement them, but hundreds of crores of rupees are being wasted on projects like a new museum, new Assembly building and unnecessary flyovers at a time when the poor were going hungry.
He pointed out that there was no logic behind having a new Legislative Assembly building, when the existing one was good enough to seat all the 243 MLAs.
"In fact the present building was good enough to seat 324 MLAs of the undivided Bihar" when Jharkhand was not separated from the state.
Attacking the Nitish Kumar government further, the former CM demanded a CBI probe in what was a "paddy procurement scam" in the state due to which lakhs of tonnes of paddy was rotting.