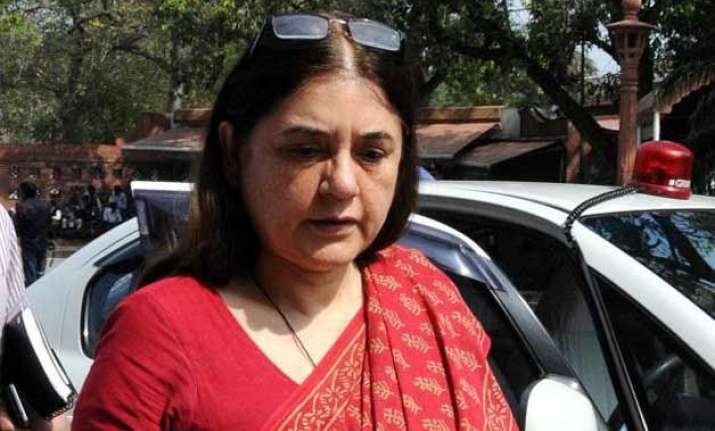 New Delhi: Giving a clean chit to two persons whose names are coming up over the Dadri lynching incident, Union Minister Maneka Gandhi today accused the SP and the UP government of "manipulating" and "politicising" the issue.
"UP government is manipulating to serve its own aims. I know the two youths, the names of whom are being dragged into this. They have nothing to do with the issue. These names are being touted by the incompetent UP police and UP government which has been consistently lying," she said.
The Woman and Child Development Minister rejected SP chief Mulayam Singh Yadav's assertion on Thursday that it was a "pre-planned" conspiracy hatched by some persons of a particular party and that they were also behind the 2013 communal riots in Uttar Pradesh's Muzaffarnagar in which 62 people were killed.
"The entire issue is being politicised. Whatever has happened is unfortunate. Whoever was behind the (Dadri) incident should be punished and law of the land should prevail," she said, adding, "innocent people are being targeted".
The Minister was speaking after inaugurating the new office building "Nirbhaya Bhawan" of National Commission for Women (NCW) at Jasola in south-east Delhi.
"Like the President and the Prime Minister have said, communal harmony of the country should not be disturbed over any issue," said Maneka.
"What newspapers are doing is not right. Every day they are taking new names, all those are incorrect," she said.
Upping the ante over the lynching of 52-year-old Iqlakh over rumours of beef consumption in Dadri, Mulayam had said that stern action will be taken in the matter "even if we have to sacrifice the government.