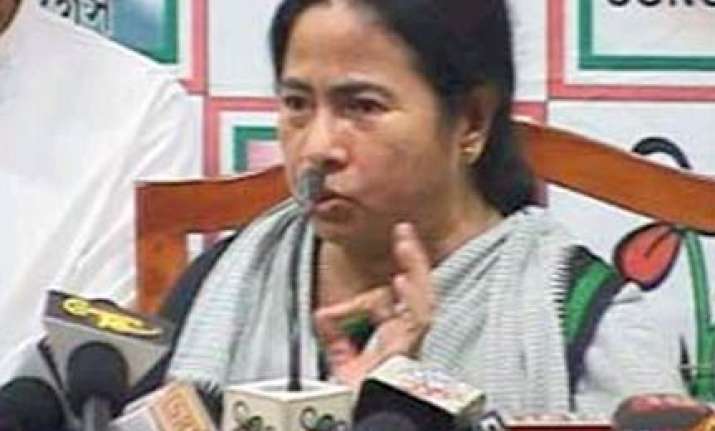 New Delhi: Railway Minister Mamata Banerjee, a strong votary of dialogue with Maoists and has sought a halt to joint security operations against them, had a meeting with Prime Minister Manmohan Singh here on Wednesday . The meeting assumes significance as Home Minister P Chidambaram and Finance Minister Pranab Mukherjee were also present.
The 40-minute meeting took place on a day when Chidambaram lamented that he had not received any credible response from the Left extremists to the Centre's appeal to abjure violence and come for talks. "I regret to say that there has been no direct and credible response to our offer of talks," he said at a conference of state police chiefs before his meeting with Mamata.  
Mamata-led Trinamool Congress, the second largest constituent of the UPA-II after the Congress, has been seeking an end to the joint security operations against Maoists in West Bengal.
The meeting with the Prime Minister came against the backdrop of a storm in Parliament over Mamata's remarks allegedly dubbing as a "murder" the death of Maoist leader Azad in an encounter, with the BJP and the Left joining hands to target the Trinamool Congress supremo. Mukherjee, the Leader of the House, had then promised Lok Sabha that he would ascertain the facts by consulting Mamata and get back.
Asked what transpired at the meeting, Mamata merely said, "I discussed Bengal related issues like CPI(M) sponsored terror in the state with the Prime Minister."
She also alleged that CPI(M) cadres in the state were accumulating illegal arms in large scale and demanded their recovery by the central forces.  
Reiterating her party's stand, Banerjee also demanded withdrawal of joint anti-Maoist operations by central paramilitary forces and state police in West Bengal.
Asked about the response of the Prime Minister, she refused to divulge anything. "I will not say," she said.  
Earlier in the day, Chidambaram had told the DGPs' conference that "the security forces need material and moral support to carry out their tasks". Incidentally, Banerjee had sent 'rakhis' and sweets to the Prime Minister and the Home Minister yesterday and today, she tied a 'rakhi' on Mukherjee's hand. PTI