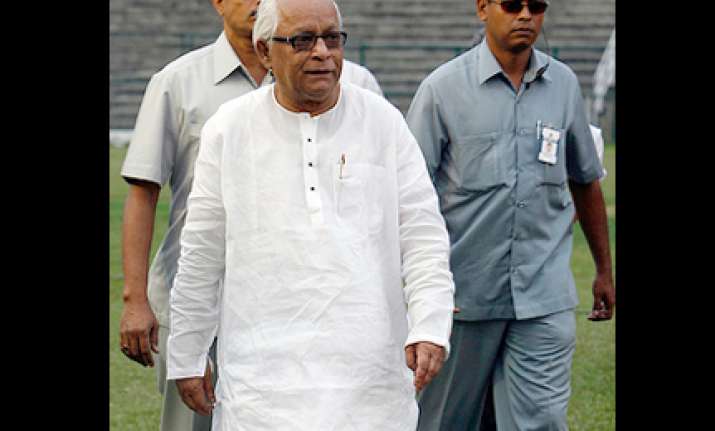 West Bengal Chief Minister Buddhadeb Bhattacharjee on Monday described as "juvenile disorder" Mamata Banerjee reportedly demanding his arrest saying violence occurred in the state whenever he was away. 
"I don't reply to such questions (on Banerjee's reported charge). It is a case of juvenile disorder," Bhattacharjee told reporters. 
To a question on Trinamool Congress chief's opposition to the joint operations against Maoists, he said "it is unfortunate.
A Union minister should not speak such language, especially when the prime minister himself has called Maoist threat as the greatest challenge to internal security. 
"When the prime minister himself is making an observation, ministers should follow," he said, adding Manmohan Singh knew who was making what kind of statements.
"I have been trying to avoid comments on what the Railway Minister says. I don't take it seriously," he said. 
Asked about his opinion on Trinamool slogan of 'Ma, Maati, Maanush', Bhattacharjee said "don't you know it is the name of a famous 'jatra' (open air theatre)? It is not her (Mamata) creation." 
On Maoist leader Kishenji's statement that he had spoken to Bhattacharjee, the chief minister said "he is a liar. 
He says I have had a telephonic talk with him. How can a liar be a leader of a party?"  He reiterated his earlier position that talks with Maoists could be held only if they gave up violence. 
On the Gorkhaland issue, Bhattacharjee said another round of tripartite talks would be held in December to discuss the issue. 
At a meeting between the Centre, the state government and the Gorkha Janamukti Morcha in August, it was agreed that the proposal for creating a Hill Council under the Sixth Schedule of the Constitution would be dropped. 
An in principle agreement was arrived at to repeal the Darjeeling Gorkha Hill Council Act through mutual consultations. PTI