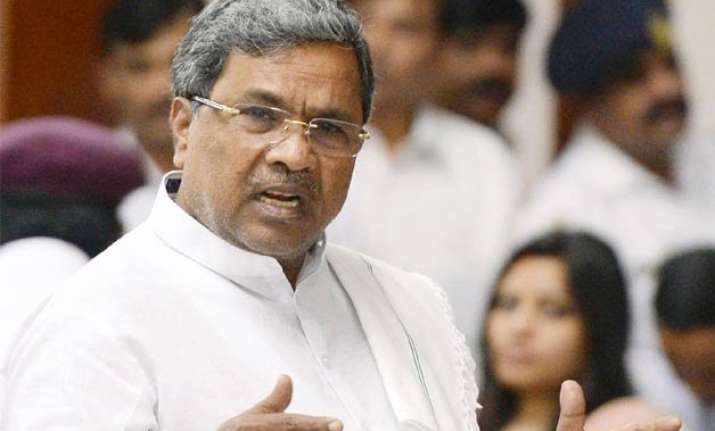 New Delhi:  With Mahadayi river water dispute snowballing into a major row, BJP today hit out at Karnataka Chief Minister Siddaramaiah accusing him of suffering from "selective memory loss" and putting the blame squarely on Congress for non-resolution of the issue.
Fielding two senior ministers Venkaiah Naidu and Ananth Kumar to counter the Congress criticism of Prime Minister Narendra Modi on the issue, overnment said Modi was ready to resolve the issue by convening a meeting of Chief Ministers of the three concerned states Karnataka, Goa and Maharashtra unlike Congress, which took "no initiative" when it was in power.
"It seems Karnataka CM Siddaramaiah is suffering from selective memory loss. His stand on Mahadayi river is the latest. He blamed PM Modi for not resolving the issue with Goa. I would like to remind him of whatSonia Gandhi said on 30th May 2007.
Sonia Gandhi had then said that Congress party will not allow diversion of Mahadayi river water to be used by Karnataka," Urban Development Minister M Venkaiah Naidu said in a statement days after Siddaramaiah led an all-party delegation to the Prime Minister seeking out of tribunal settlememt of the dispute.
Naidu claimed the Congress chief had said that her party was "committed not to allow river water diversion".
"Public should know this fact. Siddaramaiah knows what his leader said then. But he pretends otherwise. Seeking PM's help to resolve the Mahadayi issue is one thing. But blaming PM forgetting what Sonia Gandhi said in public is unfair and playing politics. Public figures need good memory.
"Selective memory loss is dangerous. In 2002, even NDA government in principle agreed for diversion of Mahadayi river waters. But it had to be kept in abeyance following opposition by Congress. During 2004-14, Congress led government was in power at the Centre and took no initiative for resolving the issue. Forgetting all this, Siddaramaiah blames Prime Minister which is totally unfair," Naidu said.
Union Chemical and Fertiliser Minister Ananth Kumar said that the Prime Minister wanted a permanent resolution and was ready to "intervene" in the dispute.
"When the all-party delegation met the Prime Minister, he was very positive. He assured the delegation that he is not only interested in intervention; he went one step further and said he wants a permanent solution," said Kumar, a BJP MP from Karnataka.