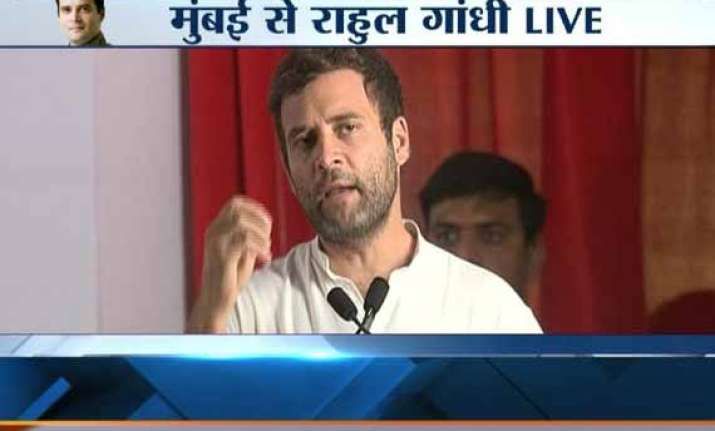 Mumbai: In a blistering attack on Narendra Modi, Congress Vice-President Rahul Gandhi today said that though Gujarat model was created by the people of the state, BJP's prime ministerial nominee Modi is hogging credit for it.  "Gujarat model of development was created by the people of the state. Is it that before Modi, people were sleeping and nothing was done?
"Is it that Gujarat was sleeping for 60 years and Modi came and changed the entire landscape? The textile and the diamond workers toiled. But no, everything was done by Modi.  This is his thinking," Rahul said here while addressing a poll rally in suburban Bandra this evening.  The rally began almost four hours behind the schedule as Rahul reached the venue at 6.45 pm.
NCP chief Sharad Pawar was scheduled to attend the rally, but was conspicuous by his absence. Instead, senior NCP minister Jayant Patil was present on the stage. Patil said Pawar could not reach the rally venue due to a helicopter snag.
Congress president Sonia Gandhi was originally scheduled to address the rally, but she called off her Maharashtra visit today citing health reasons, party sources said.  Rahul further said that UPA would reserve 25 per cent in police force and Congress-led government has set up 2,000 only-women police stations.
"The women's reservation bill, which is held up by Opposition, will be passed if the UPA is voted to power. I know that poor people and industrialists run this city. We feel there should be partnership between the two.  "Modi says make him the chowkidar of the country. In Gujarat he gave 45,000 acres land to Adani. Earlier, there was Vajpayee-Advani partnership. Now, Advani was removed and Adani was brought on stage. Their thinking is that poor don't have any right over the land and if they protest, they say Gujarat police will kill them," he claimed.
"People say what has UPA done in last ten years? In the last 15 years, the UPA lifted 15 crore people above the poverty level. But they are not bothered about the poor. They say there should be an acting university in Mumbai," Rahul said referring to Modi's speech in Mumbai a few months back.