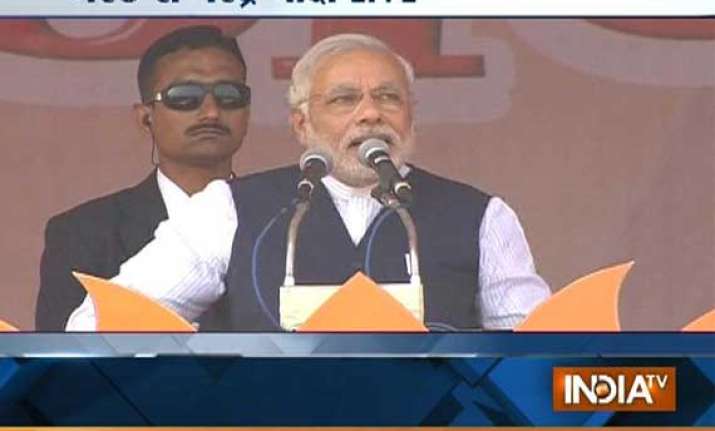 Meerut: Gujarat Chief Minister and BJP's prime ministerial candidate Narendra Modi today blasted Congress president for her 'zeher ki kheti' remark and said that it's Congress that is spreading poison through its divisive politics.
Modi said this while addressing Vijay Shankhnad rally in Meerut in Uttar Pradesh today.
Modi answered Sonia Gandhi in today's rally and said, "Sonia has accused some people of doing 'zeher ki kheti'. Sonia once told her son Rahul Gandhi that power is poison. Who stayed in power for the longest time after Independence? If power is poison who has tasted this poison most. Congress is a divisive party. They believe in divide and rule, they believe in votebank politics, of making communities fight."
Modi retaliated to Sonia Gandhi a day after she indirectly accused Modi and BJP of indulging in divisive politics by "sowing seeds of poison" (zeher ki kheti) and instigating violence in their "hunger" for power.
Modi castigated Samajwadi Party for its misrule in UP and asked the people to vote for him so that he could guard public funds from Delhi.
Modi also blasted AAP government for racial attacks in Delhi.
"It's a shame that a son of Arunachal has been killed. They are patriots and greet each other by saying 'Jai Hind'," added Modi.
BJP president Rajnath Singh, former Chief Minister Kalyan Singh, Amit Shah, Kalraj Mishra and  Vinay Katiyar also attended this rally.
Former Mumbai Police Commissioner Shri Satyapal Singh was  also among those who addressed the rally.