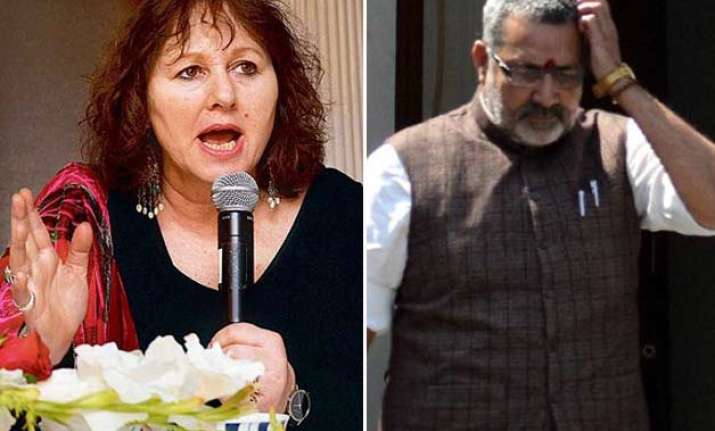 New Delhi: British filmmaker Leslee Udwin, known for her controversial Nirbhaya documentary, today compared Union Minister Giriraj Singh with Nirbhaya rapist for his derogative remark against Congress president Sonia Gandhi.
In  an interview to a news channel, Udwin said, "This really sickens me. The hypocrisy of mini mouthed, unthinking comments by those who say my film gives platform to rapists, but why has Indian Parliament for many years, given a platform to politicians making such misogynist comments. They are no worse, no better than Mukesh Singh's comments."
A few days ago, BJP leader from Bihar had said that it was because of Sonia Gandhi's white skin that she was made the Congress president. "If Rajiv Gandhi had married a Nigerian, would the Congress accept her as a leader," Singh had said.
Udwin, whose documentary was banned in India by the government claiming that it showed India in bad light, added that the Prime Minister Narendra Modi should sack ministers who have mentality like Giriraj Singh.
Also Read: I won't reply to a person with 'narrow mindset': Sonia on Giriraj's racist remark
After facing flak from all parties including his own BJP, Singh apologised for making the statement. He said, "Many things are said off the record in many ways but if they have hurt Rahul or Sonia ji in any way, I regret."
His party distanced itself from the remark and said that they did not associate themselves with the statement.
Sonia Gandhi refused to react on the racist remark and said, "It's difficult for me to react on remarks of such people having such a narrow mentality. I cannot comment on such remarks."