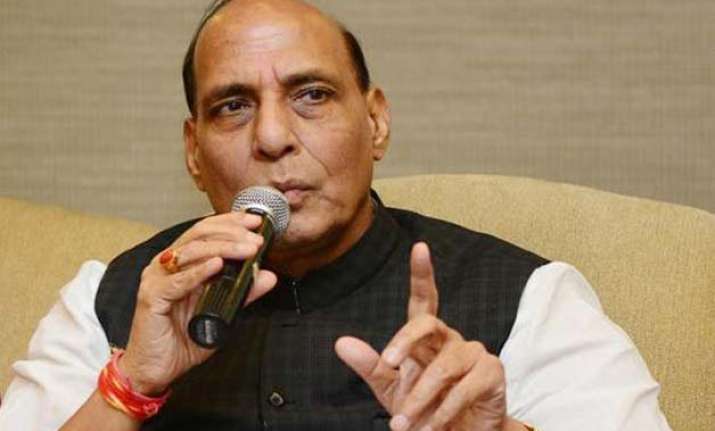 Teen Bigha(West Bengal): Home Minister Rajnath Singh today said the land boundary deal with Bangladesh should be implemented on humantarian grounds.
He was, however, non-commital whether a constitution amendment bill, needed to to implement the deal, will be passed in the budget session of parliament which resumes on April 20 after the recess.
"We want the land boundary agreement to be passed in Parliament through consensus. It should happen. I can't say when but we are trying our best," Singh told PTI here.
Asked whether the pact would be ratified when the budget session resumes after the break, Singh said it was difficult for him to say but appealed to opposition parties to support it.
"All political parties should support the agreement. It is in the interest of the country," he said.
Singh said the LBA must be passed at least on humanitarian grounds as people living in the enclaves were facing lots of difficulties in getting basic infrastructure needs.
"We must pass it at least on humanitarian grounds," he said.
The Home Minister said India has very cordial relations with Bangladesh and wants to strengthen them further.
Under the land boundary pact, India and Bangladesh want to exchange 161 enclaves which are under each other's adverse possession.
The agreement has to be ratified by Parliament through a constitution amendment bill.
The bill was placed in the Rajya Sabha in 2013 and subsequently referred to a select committee, headed by Shashi Tharoor of Congress, which "unanimously" recommended implementation of the LBA deal.
The Home Minister is currently visiting the frontier areas of India-Bangladesh border in West Bengal, including a Bangladeshi enclave which is under Indian possession.
Singh interacted with personnel of the Bangladesh's border guarding force Border Guard Bangladesh and visited a post located on the international border.
The Home Minister was also given a guard of honour by the Bangladeshi soldiers.