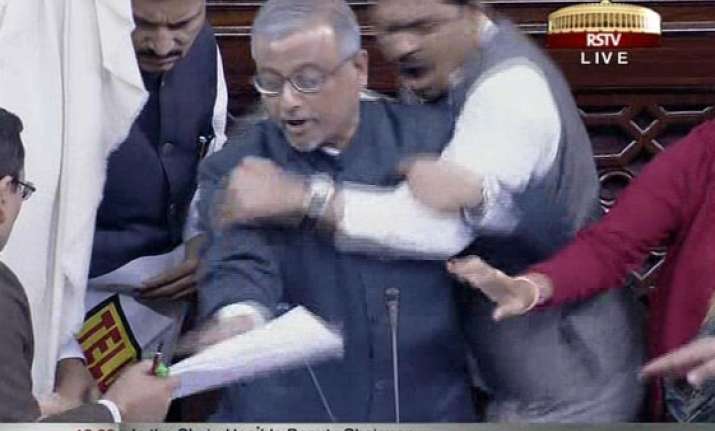 New Delhi: The much anticipated Telangana bill was not taken up in Rajya Sabha today, after a TDP member tried to snatch papers from Secretary General Shumsher K Sheriff leading to repeated adjournments.
The bill could not be tabled for debate as the BJP insisted on moving amendments to the Telangana Bill.
Two senior BJP leaders Arun Jaitley (Leader of Opposition) and Venkaiah Naidu later met the Prime Minister, and told him that they wanted to move amendments to the bill, when it is taken up for debate tomorrow.
BJP leaders are insisting on two major amendments: (1) a financial package for Seemandhra for which an amount should be mentioned in the bill and (2) separate governors for Telangana and Seemandhra, for which the Constitution be amended.
BJP leader Venkaiah Naidu has given notice for 20 amendments, while Jaitley has given notice for two amendments.
The UPA government is now worried how to get out of the muddle. 
In the evening, the Congress core group met in which party chief Sonia Gandhi said that Seemandhra should be given special status, but the BJP is insisting a financial package here and now.