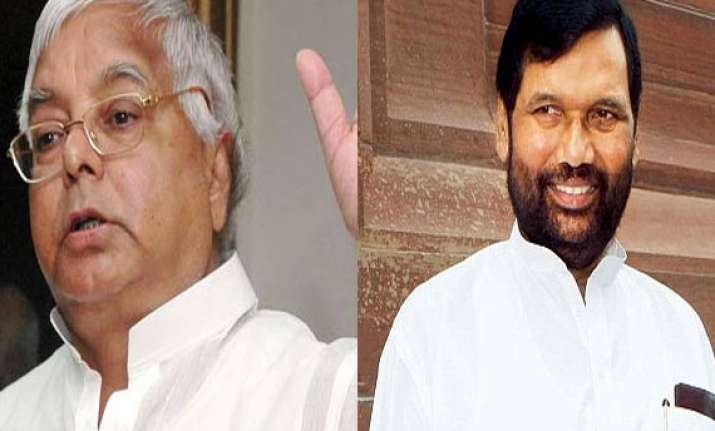 Patna: RJD supremo Lalu Prasad today said he will continue his efforts to engage Ram Vilas Paswan amid speculation that the LJP chief was warming up toward the BJP-led NDA.
"I will continue my sincere efforts to speak to Paswan and discuss with him about formation of a Congress-RJD-LJP alliance for the general elections," Prasad told reporters here.
He said that he had made sincere efforts in recent days to speak to his LJP counterpart without success and would continue to do so. The RJD chief stonewalled all controversial questions related to the LJP President and his son.
Asked about his reaction on the CBI proposing to question Paswan in the Bokaro Steel Plant recruitment scam, Prasad said "I will rather not say anything on the issue."
On Paswan's son Chirag saying that the BJP prime ministerial hopeful Narendra Modi was exonerated by the SIT in the Gujarat 2002 riots, Prasad refused to join issue.
He also slammed senior BJP leader Sushil Kumar Modi saying "Modi is a vicious person who is trying to trying to create a wedge between Paswan and the UPA government by indulging in falsehood."