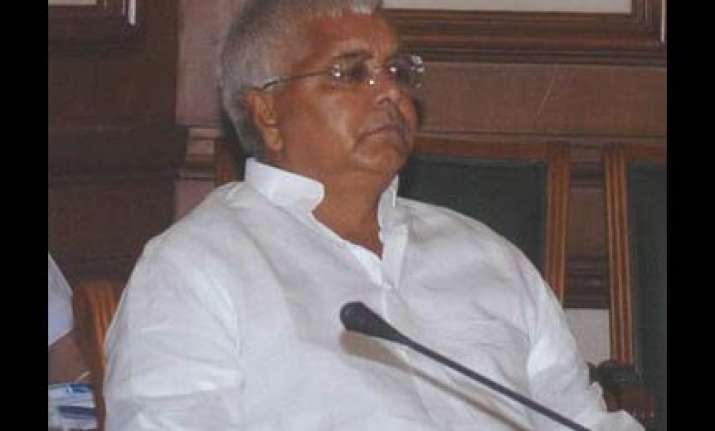 Patna, Oct 4 :  Nominating his wife Rabri Devi from two Assembly seats, RJD supremo Lalu Prasad today released the second list of candidates for the third and fourth phase of polls in Bihar.
Prasad put up former union minister and his trusted lieutenant Jaiprakash Narain Yadav to take on Putul Devi, widow of independent MP Digvijay Singh in the by-poll to the Banka parliamentary constituency. "We offered Putul ji to contest on our party symbol but she refused. So we decided to field Jaiprakash Narain Yadav to contest as our official nominee," he told reporters.
Defending his decision to field his wife and former chief minister Rabri Devi both from Raghopur and Sonepur, the RJD leader said "it has been done in conformity with the people's demand".
Ramanuj Prasad, party's sitting MLA from Sonepur, had requested Devi to fight the elections from his constituency, he said.  "I am sure she will have people's support in both the constituencies where she will emerge victorious," Prasad said.
Downplaying the discontent in the rank and file of RJD over distribution of tickets, Prasad said no party in Bihar has been spared of protests.
 "We have to face this at the time of elections because we can't accommodate all in distribution of tickets," he said claiming that his party had tried to give representation to all sections of the society.
The RJD chief has allotted tickets to most of the former ministers in the erstwhile RJD cabinets, including Awadh Bihari Choudhary (Siwan), Shivshankar Yadav (Jiradei), Cahdrika Rai (Parsa), Shakuni Choudhary (Tarapur), his son Samrat Choudhary alias Rakesh Kumar (Parbatta). Most of the sitting MLAs too have been renominated, Prasad said.
 Among the political turncoats who have been rewarded with RJD tickets were M Nemtullah (Barauli), Rampravesh Rai (Taraiya), Veena Sahi (Vaishali).  All the three have recently switched over to RJD from the ruling JD(U). Another party hopper Reyazul Haque alias Raju was given RJD ticket from Gopalganj, he said.
The RJD boss has also given ticket to Sabanam Praveen, wife of ruling JD(U) MP Monazir Hassan from Munger, besides Vijay Prakash, brother of former union minister Jaiprakash Narain Yadav, from Jamui.  The party recently released its first list of 65 candidates for the first two phases of poll. The party is contesting from 168 seats, leaving the rest 75 of 243 seats in the state to LJP. PTI