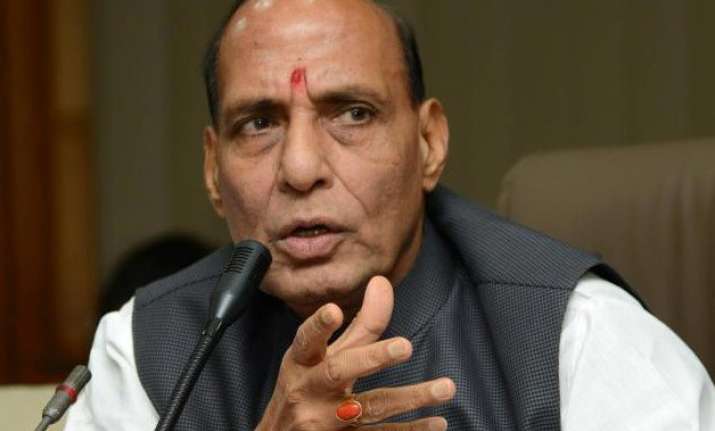 Karakat/Nabinagar: Union Home Minister Rajnath Singh today accused RJD supremo Lalu Prasad of raising the issue of beef consumption by Hindus only to divert public attention from more pressing matters like "failure" of governance and lack of development in Bihar.
Singh also attacked Chief Minister Nitish Kumar for "abysmal" law and order.
"Elections are like festivals in democracy where all political parties are expected to discuss issues pertaining to development and welfare of the people. Instead of focusing on these issues Lalu Prasad is making statements on beef eating.
"He is trying to divert attention from his own failure and the failure of the Nitish Kumar government," he said addressing election meetings at Mohania, Karakat, Nabinagar and Dinara in poll-bound Bihar.
"I appeal to Nitish Kumar and Congress President Sonia Gandhi that they should stop their coalition partner from making such remarks during elections," he said.
The senior BJP leader said people of the state should elect a government which is willing to take action against criminals and other anti-social elements.
"When a favourable government comes to power in Patna, I will ask the Chief Minister to take strong action to improve law and order situation. The Centre will provide additional forces, if needed, to the state to maintain law and order," he said.
Noting that Bihar was one of the most backward states in the country, he said, the NDA government at the Centre was concerned about its development which it had shown by announcing a Rs 1.25 crore special economic package.
"We need a state government which cooperates with the Centre in realising the true potential of Bihar," he said.
Singh said NDA was contesting these elections on twin issues of development and good governance.
"Narendra Modi himself is extensively campaigning in Bihar and addressing rallies in different parts of the state which shows how seriously he is taking the state's development", he said.
Singh said central schemes like Jan Dhan Yojana, Atal Pension Yojana, PM's Jeevan Jyoti Yojana and PM's Accident Bima Yojana were designed to help the poor and weaker sections of the society.
"The NDA government helps the poor by empowering them through its people friendly schemes whereas the Congress and other parties want to make them dependent on government doles," he said.
The Home Minister also raised the issue of cattle smuggling on the Indo-Bangladesh border and promised stepped-up vigil to halt it completely.
Lauding the role of BSF in checking cattle smuggling, the minister said there was a time when nearly 13 lakh cattle, mainly cow and its progeny, were smuggled into Bangladesh.
After BSF's stepped-up vigil, the number has now come down to two lakh a year.
"I can assure you that we will bring cattle smuggling to a complete halt," he said.