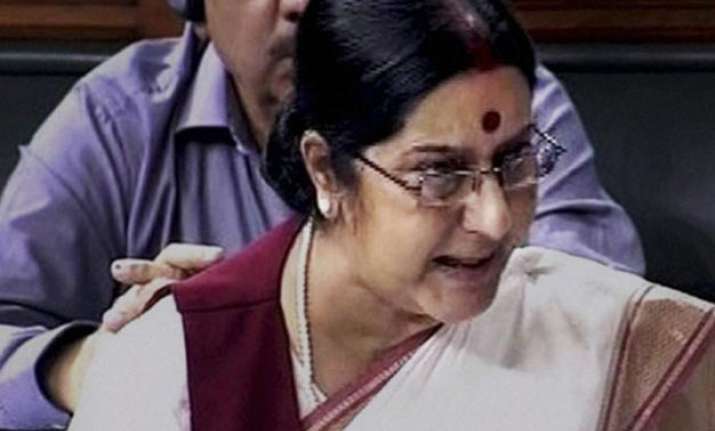 New Delhi: Union External Affairs Minister Sushma Swaraj today broke her silence on Lalitgate in Lok Sabha and vehemently refuted the charges of corruption made against her.
"I didn't ask the UK government to do favours for Lalit Modi. I merely acted on humanitarian grounds," she said while making a statement in Lok Sabha in absence of major opposition parties.
"I did not request the British government for any travel documents for Lalit Modi. The allegations levelled against me are baseless," Sushma told the lower house.
Sushma said that she helped Lalit Modi's wife  on humanitarian grounds as his ailing wife was suffering from cancer for last 17 years and her case was life threatening.
 "Medical report of Ms Modi's stated that her case was life threatening & her husband must be present with him," she said.
"Would Sonia have left a woman cancer patient to die?" asked Sushma Swaraj.
Underlining the emotional aspect of her statement, the external affairs minister added, "If helping a woman cancer patient is a crime, then I admit having committed this crime and am ready to face any punishment from this House for it."
 "I have helped a woman who is a citizen of the country and not indulged in any criminal activity, she said.
"It is unfortunate that my closest friends in Opposition are levelling charges against me. These are my bad days. I am sure, they will be over soon..I challenge anyone to show a document, letter or email recommending Lalit Modi's case to British government." She added.