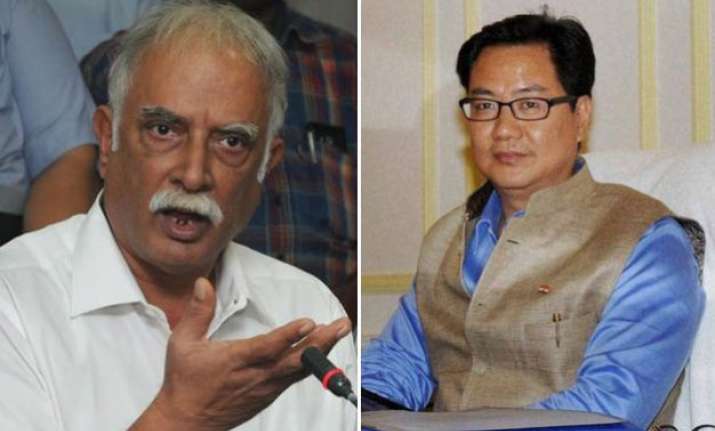 New Delhi: Union minister Kiren Rijiju and civil aviation minister Ashok Gajapathi Raju today apologised for the controversy over delaying a flight from Leh to Delhi.
Union Minister Kiren Rijiju today tendered an apology even as he insisted that he was not aware of some others not being allowed to board.
"Air India, being a government PSU, we as ministers, have the moral responsibility if any passenger has undergone any inconvenience. We must say sorry to them on behalf of the government and ensure that such incidents do not occur in future," he told PTI over phone from Darjeeling.
The controversy erupted after reports that a family of three persons, including a child, was not allowed on the flight to accommodate Rijiju, his aide and Jammu and Kashmir Deputy Chief Minister Nirmal Singh on June 24.
The civil aviation minister Ashok Gajapathi Raju has also tendered an apology to all passengers inconvenienced by the delays.
"We apologize to all passengers who have faced inconvenience," Gajapathi Raju told reporters addressing a press conference on Thursday.
"If there is violation of rules, we will ask why it happened and that it should not happen," the minister said.
"We will avoid such incidents in future, will ensure such incidents don't recur," the Union minister said.
Kiren Rijiju, Minister of State for Home, said he was not aware if any passenger was not allowed to board the flight due to the delayed arrival in the terminal.
"The deboarding of three passengers was never informed to me and this step would have never been appreciated if brought to the notice on the same day," he said.
Rijiju said the original schedule departure time of the flight AI-446 was 1115 hours on June 24 and boarding time was 1045 hours.
Boarding card of Nirmal Singh, who was accompanying Rijiju, is a "proof", he said.
The Union Minister said as per the original programme, he was supposed to take a BSF helicopter from Leh to Jammu and from there to travel by normal flight to reach Delhi.
"Because of the bad weather, the BSF helicopter could not take off from Jammu and Leh administration was asked to book a ticket in last flight from Leh to Delhi. This is normal routine arrangements in bad weather or kind of situations for VIPs protocol," he said.
Rijiju said a complaint has been lodged by the Deputy Chief Minister to the Civil Aviation Minister regarding the advancement and "misbehaviour" of the Air India pilot.
The Minister said his boarding pass was not retained for evidence because he never knew that it would required for this day. "But the Deputy Chief Minister kept as a record to produce as evidence for the complaint," he said.