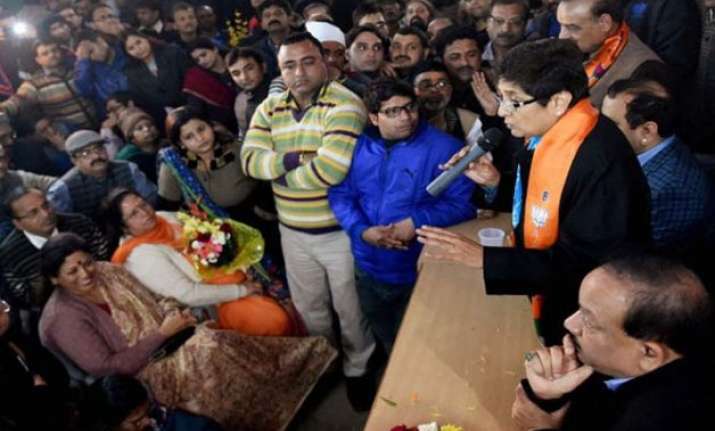 New Delhi: Reaching out to Muslims, BJP's chief ministerial candidate Kiran Bedi Tuesday said she was against "divisive politics" and that she was contesting the polls on development plank.
"My religion is that of humanity. I've never believed in divisive politics. Hindu Muslim Sikh Isai apas mein hai bhai bhai (All are brothers)," Kiran Bedi said addressing a rally in Seelampur constituency.
Bedi assured the women of the area of security and safety, if voted to power.
"My sisters, you will get security. It is my responsibility. If you're facing any trouble, call the CM's control room. I will not tell you that the police is not under me," Bedi said taking a jibe at former chief minister Sheila Dikshit's remarks post December 16, 2012, gangrape.
Seelampur, primarily a Muslim dominated constituency, is a Congress bastion and its MLA Chaudhary Mateen Ahmad has not lost an election here in the past two decades.
The residents of the area welcomed Bedi with fireworks and as per traditional customs.
Bedi also received an overwhelming response at nearby Timarpur constituency, as her rally kicked off from Mukherjee Nagar. Young students along with local residents poured out on the roads to catch a glimpse of her.
Addressing residents in Seelampur, Bedi said she will bring money from the Central govt to help educate and offer employment opportunities to the youth.
"I know what people want… electricity, water, education, security, I have a lot to do here," she said.
"There is no age for education. I will launch a campaign to make you independent," she told a group of women.
Accompanied by Bhojpuri singer and MP, Manoj Tiwary, and Seelampur candidate Sanjay Jain, Bedi waved at the residents as she made her way through the narrow lanes in the area.
"Delhi will now get its Chief Minister who is an Iron Lady," Tiwari said.
He also sang songs in praise of Bedi and introduced her to problems of the locals including that of unauthorised colonies in Seelampur.
"The Bill on unauthorised colonies has been passed by Parliament. Houses which have been built till 2014 would not be demolished. Only the last signature is left which will be done by Kiran Bedi herself, once she becomes the CM," he told the residents.
Tiwari appealed the voters of the area to come out in large numbers on February 7 and help BJP get majority.
"You all know this is one face which has always fulfilled it's promises. This country needs a Bedi after Modi," he said.
When Bedi's rally was passing by the AAP office in the area, she waved to the party workers who returned the gesture by enthusiastically waving at her.
Lookalikes of Narendra Modi and Baba Ramdev addded to the amusement during the roadshow.