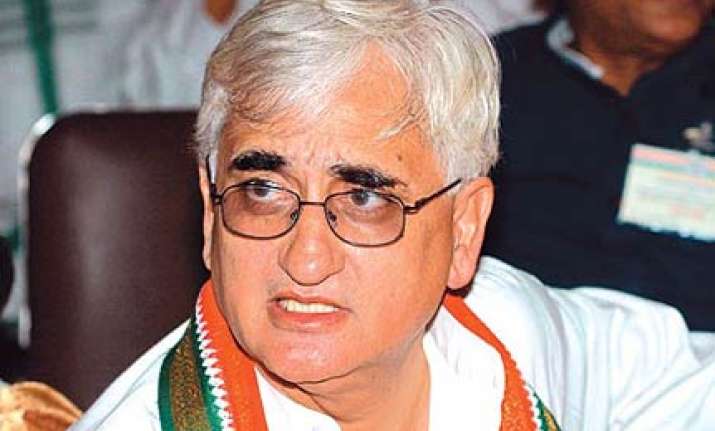 New Delhi, Nov 15: Union Minister Salman Khurshid says that Congress chief Sonia Gandhi holds the 'real power' in the UPA coalition though Prime Minister Manmohan Singh was very much in charge of the government.
"Of course everybody knows that she (Sonia Gandhi) is the real power, but he (Manmohan Singh) is the real Prime Minister," Corporate and Minority Affairs Minister Salman Khurshid told a talk show on a news channel. 
Khurshid's reponse came when he was asked whether the real power in India was Sonia Gandhi and not Singh.
To a question on who between Gandhi and Singh decides whether a Minister continues in Cabinet or not, Khurshid said the Congress president and the Prime Minister decide it "together".
When asked whether it is not infringment of the prerogatives of the Prime Minister with Gandhi also joining him to take decision on a Cabinet Minister, Khurshid said, "no it's not an infringment. Of course he is a Prime Minister, he must take responsiblity. But she (Gandhi) is the leader of our party."
To a question why Delhi Chief Minister Sheila Dikshit, Urban Development Minister Jaipal Reddy and Sports Minister MS Gill should continue in their offices when several agencies are probing the alleged CWG scam, he said, "if there is something that look substantive and serious we take action... But you can't execute a person before you reach a point of final judgement."
Khurshid, however, said it is not fair to say that the Prime Minister is faced with a situation where there are charges of corruption against his five Ministers.
"There may be questions of propriety of conduct and behaviour. there may be issues of responsibility for something that is unacceptable," he maintained.
Khurshid refused to accept when asked whether Gandhi was stopping Singh on taking any decision on the Cabinet Ministers.
"You will be surprised very critically what meeting of minds there is between the two that decisions when they are taken will be taken, he said.
"And the meeting of mind doesn't mean that Mrs Gandhi is put away and told that look this is government, don't interfere. she is a leader of our party, she gives the direction, she gives the sense," he however, added.
Asked whether the CWG scam has come as an embarrassment to the Congress-led UPA government, the Union Minister chose to term it as "irritant, disconcerting and troublesome", saying that government wants to face it "boldly, courageuously and transparently."
"Its an irritant..we shouldn't have had it...because we are looking at the larger picture. We want transparency, good governanace in this country. We have done enormous amount toward that then to be dragged back because of something like this. PTI