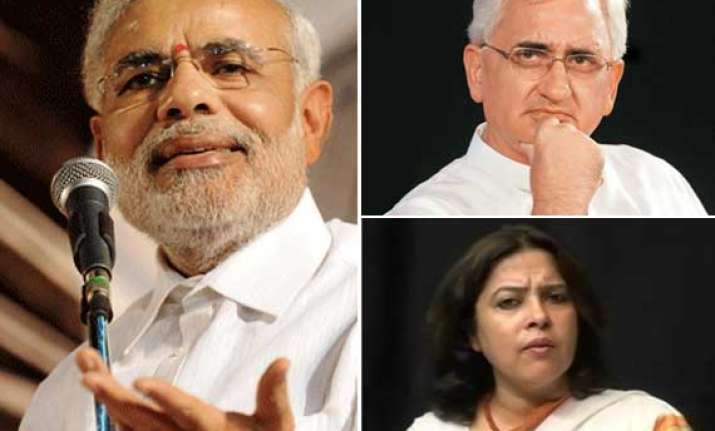 New Delhi: With 2014 Lok Sabha polls looming large on the political horizon, the discourse between the ruling and opposition parties has now hit a low level, with party leaders showering epithets at each other.
It started with Gujarat chief minister Narendra Modi deriding the Prime Minister Dr Manmohan Singh in his Independence Day speech in Bhuj, and the Congress leaders soon swung into action.
Commerce Minister Anand Sharma: "Modi may be an asset to BJP, but he is a national embarassment. He is boastful and makes tall claims about the development of Gujarat."
Rural Development Minister Jairam Ramesh: "Modi has achieved the impossible. He has made Advani appear to be the upholder of decency and secularism".
Congress general secretary Digvijay Singh: " On Modi's Independence Day speech, I and Advani are on the same page. Modi's abrasive hunger for power has no limits."
External Affairs Minister Salman Khurshid: "Modi is like a frog which has just come out of a well and is confused after looking at the world in amazement".
BJP spokesperson Meenakshi Lekhi: "Khurshid doesn't look or sound like the foreign minister of India. He sounds most like the minister for foreigners. Only one person will survive if Pakistan attacks India with nuclear weapons, and that will be Salman Khurshid because only cockroaches can survive a nuclear attack."