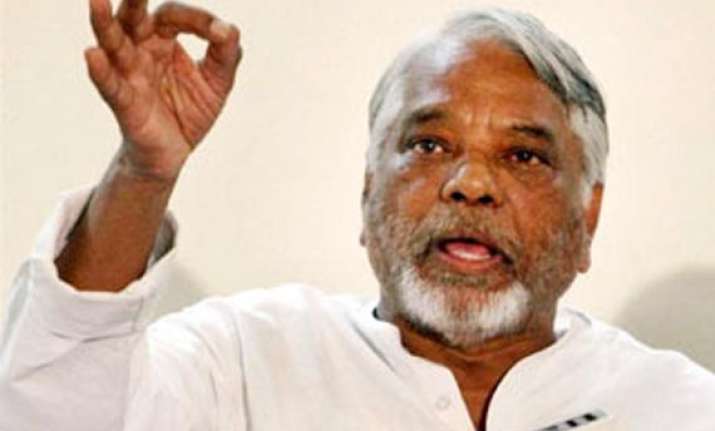 Hyderabad, May 31: Congress in Andhra Pradesh yesterday suffered a jolt as three of its leaders, including two MPs, from Telangana region announced their decision to join Telangana Rashtra Samiti accusing the ruling party of having "failed to keep its word" on the creation of Telangana state.
Peddapalli MP G Vivekananda and Nagarkurnool MP Manda Jagannatham, former MP K Keshava Rao and former minister G Vinod will join TRS at a public meeting here on June 2, according to TRs MLA K T Rama Rao.
However, Congress appears to have succeeded in retaining two other MPs who were also tipped to quit the party and switch over to TRS.
Congress has 12 MPs in the Telangana region of whom three are in the Union Cabinet. Of the 12, seven were known protagonists of Telangana. They had defied the party on many occasions and staged protests in Parliament on Telangana issue.
Though the likes of Ponnam Prabhakar, Madhu Yashki Goud, Gutta Sukhender Reddy and Komatireddi Rajagopal Reddy are still in the forefront demanding a separate state, they have decided to stay on in the party and "achieve Telangana" statehood.
TRS had claimed at least 6-8 MPs and 15-20 MLAs from Congress and other parties would jump to its side.
The four Congress leaders' move did not come as a surprise as there had been speculation for many months about their plans.
The Congress high command has remained totally cold to the May 30 deadline set by the four leaders for the party to announce its decision on Telangana.
Emerging from a three-hour meeting with TRS chief K Chandrasekhar Rao at Vivekananda's residence this evening, Keshava Rao said they waited for ten long years for the formation of Telangana state.
"We have trusted the Congress high command and the Union Home Minister all these years but now our hopes have been belied", the former MP said.
"Concurring with KCR's view that everyone should join hands to carry the Telangana statehood movement forward, we have decided to join TRS," Rao, a former invitee to the Congress Working Committee, added.
KCR noted that the two Congress MPs' entry gave a "1000 elephants' strength" to TRS. This should not be seen as a mere political move. It's a happy occasion that these Congress leaders have decided to join the statehood movement", KCR said.
Manda accused Congress of failing to keep its word on creation of Telangana state.
"Being members of the ruling party, we fought in Parliament for a separate state but the Congress high command did not heed. We cannot continue in such a party that does not have any ideology," he said.
Earlier in the day, MLA K Lakshma Reddy, known as a confidant of Chief Minister Kiran Kumar Reddy, met Vivek at the latter's residence and urged him to reconsider the decision to quit Congress.
Vivek, however, made it clear that he had no hope Congress would carve out a separate state and hence would not stay in the party.
Keshava Rao also had a meeting with state Panchayat Raj Minister K Jana Reddy where they reportedly discussed the move to join TRS.
Jana Reddy, a vocal supporter of Telangana, told reporters later that there was no question of his quitting the party.
"I will continue to remain in Congress and fight for Telangana. We have been constantly apprising the high command about the people's aspirations for a separate state and are confident that it will take a decision on the issue before 2014," the minister said.