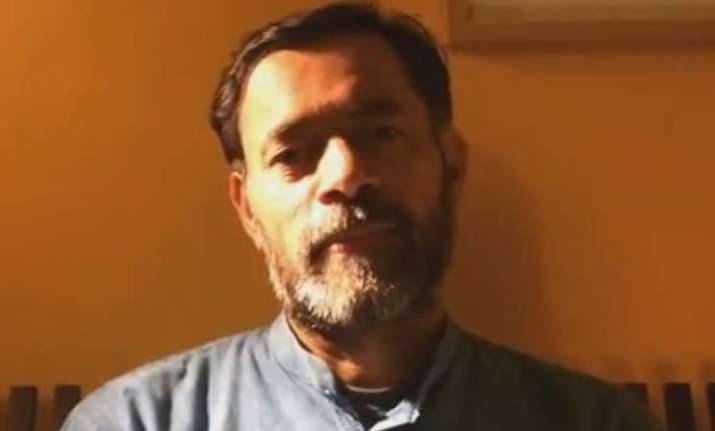 New Delhi: The internal rift of Aam Aadmi Party is splitting further as an audio tape has surfaced with a recorded conversation of Yogendra Yadav leaking critical party information to the media.
Yadav, on an informal breakfast meeting with a journalist on August 29, 2014, is known to have given away some critical information of the party which should have been off the records.
The conversation is known to be recorded by loyalists of Delhi Chief Minister and AAP chief Arvind Kejriwal secretly, without the knowledge of journo, and released now to expose Yogendra Yadav.
As reported by Indian Express, AAP's Delhi Secretary Dilip Pandey alleged that Yadav has given away the critical information of party to media.
The recording was brought up at the National executive Meeting of the party on February 26 and also finds a mention in Dilip Pandey's letter to the Disciplinary Committee.
It is known that earlier also Pandey had written a letter to the disciplinary committee of the party alleging anti-party activities by Yadav.
Crisis of the party deepened further, when in a letter to National Executive last week, Prashant Bhushan spoke about the "one-person centric" campaign of the party which is making it look like other parties and demanded "Swaraj" within the organization.
Through the joint letter also given to Yadav, he demanded activation of an ethics and grievance committee in the organization to which Yadav further added that that party should not fall prey to personality cult.
Yadav said, "Within the organization you have to ensure that we do not fall prey to personality cult. These are the things which we have to constantly struggle. It's not a special case that AAP has to struggle with. It's a real question of democratic procedure. I am happy that AAP is at least struggling with these questions and there are no easy answers."
Through the letter they spelt out things which required immediate action and some others which needed long term action in AAP.
"We need an ethics committee which would ensure that whenever ethical questions come up we don't look like any other party. We have set high bars for ourselves", he further added.
He also talked about autonomy for state units and strengthening of internal democracy procedures for AAP.
He said, "These are constructive suggestions no one would disagree with. Even Lokpal has raised similar questions and we need to raise similar questions in the Indian politics."