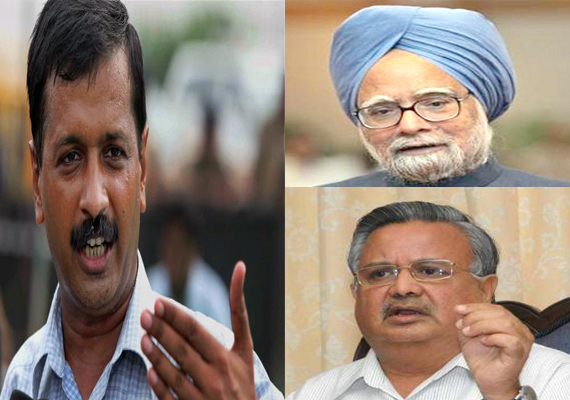 Ghaziabad, Aug 22:  Former Team Anna member Arvind Kejriwal today lashed out at Congress, BJP and the CPI-M alleging that all these parties were responsible for Coalgate, in which coal blocks were parcelled out to private parties at throwaway prices.
Speaking to a news channel here, Kejriwal said, not only the Prime Minister, but the chief minister of Chhatisgarh
Raman Singh
should also resign for recommending allotment of coal blocks in his state.
"The CAG report clearly indicts CPI-M, Congress and BJP for their governments rule in Coalgate. The then West Bengal chief minister Buddhadeb Bhattacharjee and the then Rajasthan chief minister
Vasundhara Raje
had also recommended allotment of coal blocks to private parties", said Kejriwal.
"These chief ministers had written letters in 2005 opposing competitive bidding of coal blocks, in order to favour their own favourites.
"No major party has the moral authority to say that it is innocent. In Karnataka, the then BJP CM B S Yeddyurappa allotted iron ore mines without bidding.
"Parliament has become a place to enact drama. Both the BJP and Congress are in cahoots and decide among themselves when to allow the parliament to function and when to obstruct.
"For the last several years, we have been watching Congress helping BJP men when in power, and BJP helping Congres men when it is in power. Both the parties have a very good setting among themselves", said Kejriwal who had sat on indefinite fast against corruption in the last week of July at Jantar Mantar.
The former Team Anna member said, BJP's demand for the PM's resignation was only a charade, as the BJP leaders know the PM was not going to quit.
"At least in the 2G scam, the Supreme Court cancelled all the licences. Why don't they cancel all these coal allotment leases now?", asked Kejriwal.
Kejriwal said, he and his colleagues would soon file a PIL in the Supreme Court demanding setting up of a special investigation team to probe the Coalgate scam.  "If the SIT is set up, both the BJP CM and the PM will have to quit", he added.
"We will also carry out a referendum among people on this issue", said Kejriwal.