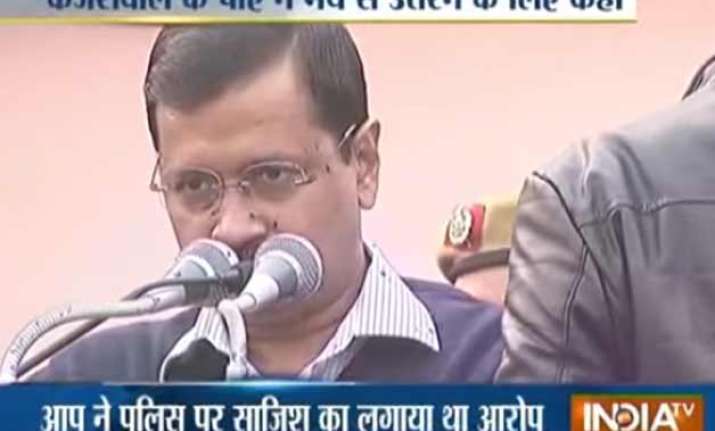 New Delhi: One of the cops from Delhi CM Arvind Kejriwal's security has told his seniors that he was asked to step down from the dais just before a woman threw ink at the CM at an event in Chhatrasal stadium on Sunday.
According to a report published in Times Of India, it was CM's PA who himself asked the cop to step down from the dias where the CM was standing.
The latest revelations have countered the AAP government's claim that it was a 'conspiracy' by Delhi Police and that security personnel failed to offer complete security cover to the Chief Minister.
The cop also alleged that on many occasions, security personnel are stopped from accompanying the CM under his own instructions. This is not the first time that a cop has made such complaint to his seniors. In past, several cops from the CM's security have complained to seniors about being stopped from guarding Kejriwal.
The developments have given a fresh twist to Sunday's incident and police are now interrogating the woman attacker, Bhavna Arora, to see if there was a 'plot'.
On the other hand, the AAP has dismissed the claims that a police constable was asked by Kejriwal's PA to get off stage before the ink attack incident.
"Someone breaking the Z+ security circle and attacking a CM is a huge mistake. As the report suggests, if the cops are saying that they went away as CM's PA asked them to leave, it is weird and awkward if cops are taking indications from a PA," party MLA Somnath Bharti said.
Taking a dig at AAP, Congress leader JP Aggarwal said, "The AAP plotted this to create a drama just like they did at Jantar Mantar. The report tells AAP doesn't have any work expect doing drama against the LG, police, Prime Minister and Congress."
Yesterday, the woman, who identified herself as the Punjab in-charge of Aam Aadmi Sena, was sent to one-day police custody.
On Sunday evening, Bhavna had rushed close to the dais at Chhatrasal stadium from where Kejriwal was expressing his gratitude to the people of Delhi for making the odd-even formula a success and threw ink at him.