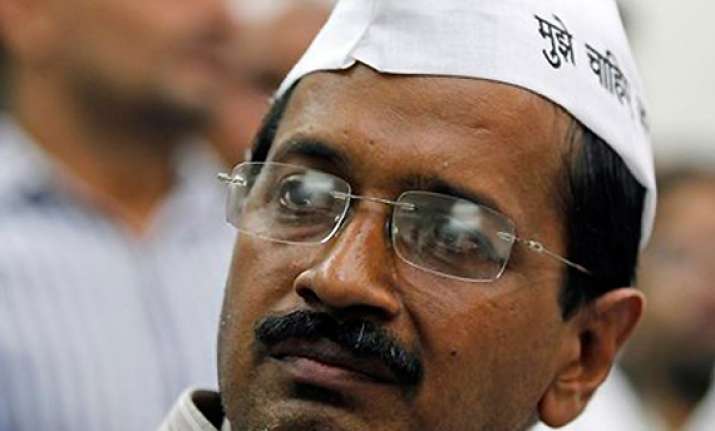 New Delhi, Nov 24:  Promising to change the way political parties work in India, Arvind Kejriwal and his anti-corruption group Saturday said the name of their new outfit will be Aam Aadmi Party (Common Man's Party).
"'Aam aadmi' will contest elections, aam aadmi will vote and aam aadmi will go to parliament. This party will change the way politics and political parties function in the country," Kejriwal said.
Kejriwal had Oct 2 announced the formation of a party, without disclosing its name.
"I received 80 to 90 mobile messages daily suggesting the party's name. The name 'Aam Aadmi' is empowering the common man," he said.
He said for the past one-and-half years, they had been knocking the doors of various parties on the Lokpal Bill.
"But every political party betrayed us. So we decided during the fast in August that this movement will take a political plunge and as a result, the party has been launched," Kejriwal said at a press conference in the presence of other party members Prashant Bhushan, Sanjay Singh, Gopal Rai and Yogendra Yadav.
"Today, we inducted 300 people into the party and there were number of people who wanted to join the party unlike other parties that conduct membership drives. People can come to Jantar Mantar on Monday (Nov 26) and get enrolled," he said.
The party's name was announced after a day-long meeting at the Constitution Club here. Party sources said the name was proposed by members Mayank Gandhi and Chandramohan.
At the meeting, the party's constitution was also finalised and its national council was constituted.
According to its constitution, every district in the country will be represented in the party and its national executive council will meet Sunday.
The party will have two kinds of members -- ordinary and active. Anyone can enroll himself or herself as an ordinary member by paying Rs.10 as fee for three years. The ordinary member, depending on his work for the organisation, will be made an active member after four months.
The constitution also says if a party member enters the state executive or national executive councils, his or her relatives will not find a place in any council.
Also, the party has included the right to recall in its constitution.
But soon after the party's name was announced, the ruling Congress objected to it, saying the slogan of "aam aadmi" has long been linked to the Congress.
"'Aam aadmi' has been synonymous with Congress since 1885. Nobody can hijack the intrinsic relation between Congress and the 'aam aadmi'," Information and Broadcasting Minister Manish Tewari said.
Kejriwal countered the claim: "The name 'aam admi' was never with the Congress. Now they are thinking that we will flee with their name."
"From now, all the transaction could be made in the party' name -- Aam Aadmi," he said.
Kejriwal has also earlier tweeted that he was a common man and would bring 'swaraj' (self-rule) and 'poorna azadi' (complete independence) and curb price rise and implement Jan Lokpal.
Kejriwal, who was campaigning against corruption under the banner of India Against Corruption, said the name would not be used anymore.
"We are not going to use India Against Corruption from now," he said to a query.
Social activist Anna Hazare had objected to Kejriwal using IAC's name after he parted with Team Anna to form a party.
Kejriwal came into prominence with a Hazare-led movement demanding a strong anti-graft ombudsman bill.