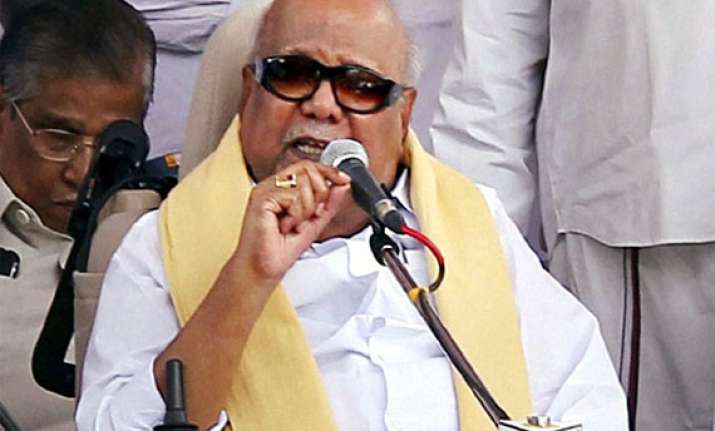 Chennai, Dec 27:  Virtually questioning arch rival and Chief Minister Jayalalithaa's walk out at the NDC meeting, DMK President M Karunanidhi today said it was normal practice to stipulate time for making speeches but he would condemn if she had indeed been humiliated.
"(If they) had humiliated her, I condemn it," he told reporters here in response to Jayalalithaa storming out of the National Development Council meeting in Delhi, saying she faced humiliation being stopped from completing her speech.
The AIADMK supremo had alleged that a bell rang after ten minutes while she was making her address, which she said was "humiliating," and charged that voices of Chief Ministers of non-Congress ruled states were being "stifled."
Recalling that he himself had participated in such NDC meetings and conference of Chief Ministers, Karunanidhi, a former chief minister, said the text of speeches were printed in advance and the Chief Ministers concerned speak within their allotted time, with the rest treated as read.
"That is the practice in Chief Ministers' conference and I have seen that. Today she acted differently and had sought that she be allowed to speak ahead as she had to return to Chennai. She was given ten minutes as was the case with other Chief Ministers also," Karunanidhi, whose party is an ally of UPA, said.
"A bell rings after ten minutes but that doesn't mean the speech has to be ended and one can continue for another five or ten minutes. Even I have spoken like that," the 88-year old arch-rival of Jayalalithaa, said.