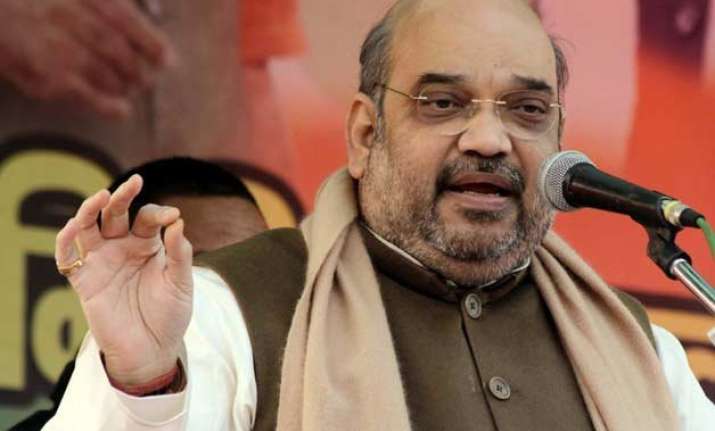 Bengaluru: Claiming that "jungle raj-2" has returned to Bihar after the break-up of its alliance with JD(U), BJP today struck a confident note that people of the state would give it the mandate in the Assembly elections due later this year.
"After the separation what has happened is that jungle raj-2 has returned to Bihar," BJP President Amit Shah told the party National Executive as the two-day conclave got underway here.
"This is jungle raj-2 and therefore people of Bihar are very angry and upset.
"They want a new government led by BJP," Shah said in his opening remarks at the meeting, attended by BJP's top leadership, including Prime Minister Narendra Modi, party veteran L K Advani and delegates, including chief ministers of party-ruled states.
RJD supremo Lalu Prasad's rule was often derided as "jungle raj" by the BJP-JD(U) combine but JD(U) and RJD have joined hands after their rout in Lok Sabha elections, targeting BJP as their common enemy.  
In a bitter attack on JD(U), Shah accused it of having ditched people's mandate by breaking the alliance.  
"Last time the people of Bihar had given mandate to BJP and JD(U) because we were in alliance, but JD(U) ditched people's mandate and went out of the alliance.  "So, it is they who have betrayed," Shah was quoted as saying by Union Minister Prakash Javdekar who briefed the media.
BJP was sure that the people of Bihar would give a mandate to the party in the elections later this year, Shah said.
The BJP-JD(U) alliance had come to a bitter end after Modi was projected as prime ministerial candidate with Nitish Kumar, who was also reported to be nursing an ambition for the top post, unhappy over it.
Nitish Kumar had, however, met Modi recently after his return as Bihar Chief Minster in their first-ever encounter, described as a "courtesy call".