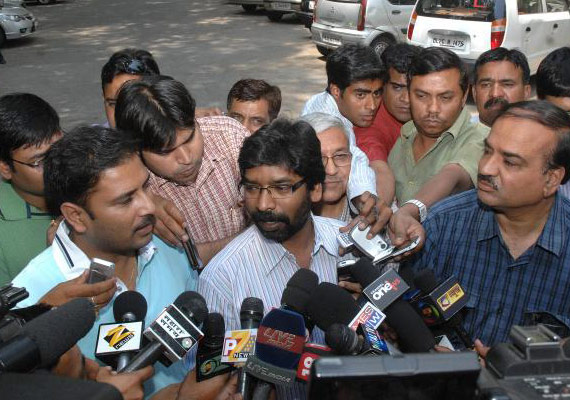 New Delhi, Mar 26: After issuing a directive to its Jharkhand MLAs not to vote in the Rajya Sabha polls in the wake of Anshuman Mishra controversy, BJP is in a dilemma as its ally JMM is seeking its votes for the party's candidate who may fall short of the required number to go through.
JMM leader and Deputy Chief Minister of Jharkhand Hemant Soren met BJP President
Nitin Gadkari
, Leader of the Opposition in Lok Sabha
Sushma Swaraj
and her Rajya Sabha counterpart
Arun Jaitley
to solicit their party's support for for JMM nominee Sanjeev Kumar, a Supreme Court lawyer, for the March 30 rpt 30 elections.
"Soren met me and sought the support of BJP MLAs. We have not taken a decision yet as we have asked our MLAs to abstain in view of largescale horse trading and malpractices," Swaraj said.
She told Soren that since BJP will abstain, the required majority would come down from 27 and JMM with its 18 MLAs will easily win the Rajya Sabha seat from the state. BJP has 18 MLAs in Jharkhand Assembly.
Sources said the JMM leadership is not sure all its MLAs will vote for the party candidate and hence wants to garner the BJP votes too.
Mishra had filed his nomination as an independent for the Rajya Sabha polls from Jharkhand.
When the BJP top leadership realised that his nomination was proposed by six BJP MLAs, they objected and issued a directive to its legislators to abstain from polling. He had then withdrawn his nomination.
But with other candidates in the fray, polling will take place and JMM wants BJP support to make it a smooth sailing for its candidate.
One opinion in BJP is that it should not be seen abstaining from voting for an ally.