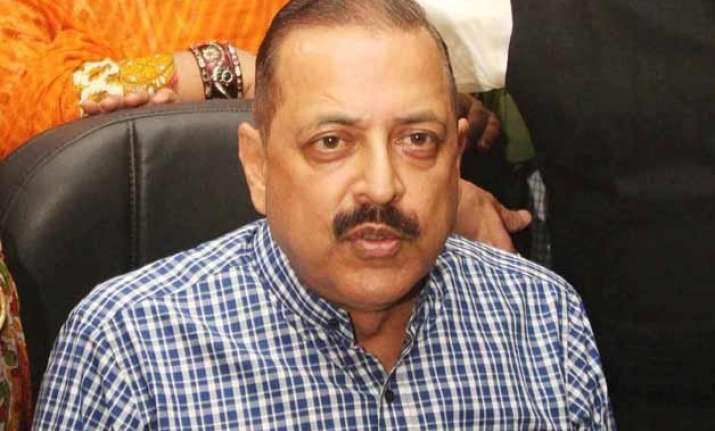 Katra (J&K): In the backdrop of anti-India slogans raised by separatists leaders at a rally in Srinagar, Union Minister Jitendra Singh today said the state government is capable to deal with any situation and urged people not to get panicky over the issue.
"Government is capable in dealing with any kind of situation and therefore I want to reassure the people of Jammu and Kashmir not to get panicky over the issue," Singh told reporters here.
The state government has taken cognisance of everything so they will be able to handle it and control the situation to bring back normalcy. They have also learnt from the sequence of last incidents that has happened in last two to three days, he said.
Over security situation, he said "I am sure that the authorities concerned would be able to control the situation sooner or later and therefore the tourists season would remain unaffected".
"I assure that both the state and the Centre are working in tandem and we should give them opportunity to handle the situation," he said.
On the issue of revival of separatism in the Kashmir Valley, he said "I am sure that both the partners (PDP and BJP) will also take care of keeping in mind the sensitivities of each other and as I have already reiterated that this is an alliance based on governance and development agenda".  
He said the alliance came into existence in spite of the different ideological views and that too was responsibility of the BJP because we were the second largest group and took upon the onus of responsibility of providing democratic government to the state and its people, Singh said.
"While accepting the responsibility, we have entered into an alliance (with PDP)... rising above the political differences," he said.
"Both the sides have agreed to commit to the larger issues of development. We always batted for equilateral development of Jammu, Ladakh and Kashmir. This equilateral development has been a matter of concern in J-K," he said.  Maintaining that BJP is a disciplined party, he said, "We have mechanism in place, we have a constitution in place, we have functionaries at both at the state and the Central level."
Talking about the two-day ongoing state executive committee meeting here, he said such meetings are part of a mechanism...which provides an opportunity to introspect...and also provides an opportunity to contemplate the road map to be followed by the BJP workers and leaders in the state in months and years to come.
When asked about differences with PDP over several issues, he said that "we have a coordination committee in place on CMP and as has been reiterated time and again".  
"Our agenda of governance will solely be determined by our agenda of governance and programmes without touching upon the contentious ideological issues. I am sure that the BJP leadership in the state is capable of dealing with any kind of situation that arises," he said.