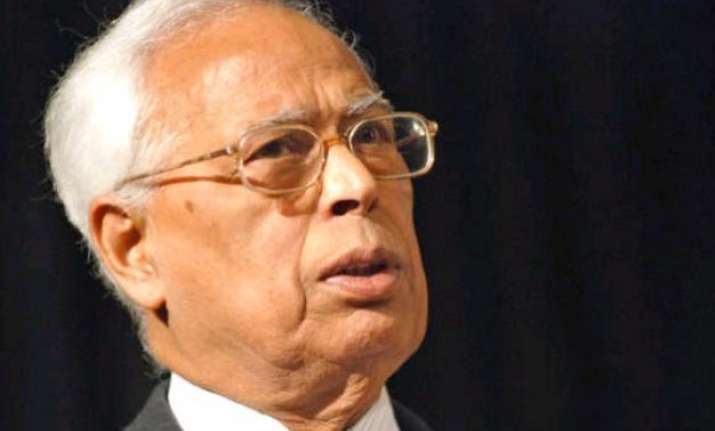 Jammu: Noting that over one lakh farmers in Jammu and Kashmir were without Kisan Credit Card, the state Governor NN Vohra today advised the banks to extend hassle free credit to them.
Vohra was speaking at the State credit Seminar organized by the National Bank for Agriculture and Rural Development (NABARD) here.
"It is matter of concern that which was pointed out in the presentation that more than 1.26 lakh farmers are without Kisan Credit card," he said.
Vohra also advised the banks to extend timely, adequate and hassle free credit as per the potential identified by NABARD in the state focus Paper.
The Chief General Manager NABARD, regional office Jammu, Shankar A Pande said, "The credit potential projected under priority sector estimated at Rs 13683.31 crore was based on the potential linked credit plans (PLPs) prepared by NABARD for all districts of the state for 2015-16".
Pande RPT Pande emphasised the need for balanced growth of the rural sectors and creating required infrastructure by the state government under NABARD's rural infrastructure development fund for strengthening capital formation in these sectors for sustainable growth.
He said that the potential for agriculture and allied sector was Rs 4733.86 crore and for other priority sectors was Rs 4631.65 crore.
"Keeping in view the theme for 2015-16 a sum of Rs 2191.98 crore was projected for disbursement for investment credit activities for agriculture and allied sector. The PLPs provides a base for preparation of Annual Credit Plans by banks for the year 2015-16 in the state and areas for investment for infrastructure to the state government," he said.
Pande RPT Pande also informed that NABARD has launched five area development schemes (ADS) in five districts for financing Dairy Development and exhorted the banks top launch similar intervention in other sectors and districts.