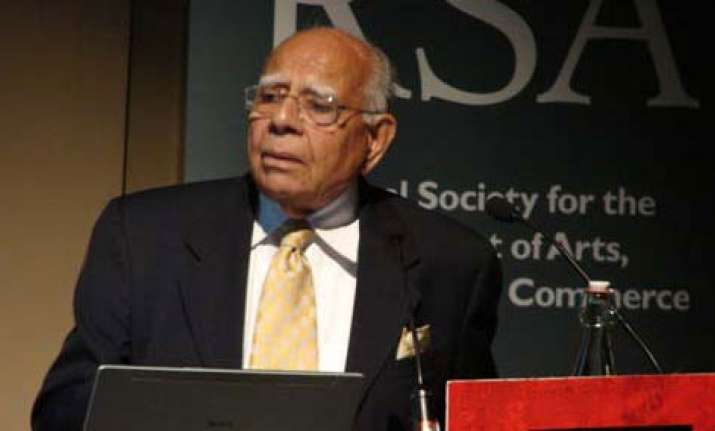 New Delhi, Oct 26: In an embarrassment to BJP, its Rajya Sabha member Ram Jethmalani today differed from the party line and backed J and K interlocutors, calling as "childish and churlish" its accusations that the panel was internationalising the Kashmir issue.
But the BJP quickly distanced itself from the eminent lawyer's views, saying it does not "subscribe" to the remarks.
"Jethmalani is Jethmalani. He has his own opinion. The party does not subscribe to it...We have already expressed our official line." BJP spokesperson Prakash Javadekar said.
Unfazed by his party disassociating with his views, the former Union law Minister stood by his remarks and said "I am not bound by anything which every BJP member says.
"My views are absolutely in consonance with national interest," the controversial lawyer-turned politician said tonight reacting to him being ticked off by Javadekar.
Toeing a line diametrically opposed to that of his party, Jethmalani saw nothing wrong in the remarks of Dileep Padgaonkar, heading the three-member team, that there is a Pakistan "dimension" to the Kashmir problem.
"It is childish and churlish to attack them as internationalising the issue. Prime Minister Atal Bihari Vajpayee by his confabulations with President Pervez Musharraf and recently Foreign Minister S M Krishna confabulating with his counterpart Mr (Shah Mehmood) Qureshi were exactly doing that," Jethmalani said.
"Dialogue with Pakistan is a compulsory legacy of the Simla Agreement of 1972. We cannot wish it out of existence," he added.
Stating that Padgaonkar and his team's task of finding a "peaceful and lasting solution" to the Kashmir problem is "almost superhuman", Jethmalani said he "fervently" prayed for their success, despite having "serious misgivings".
"Even if they achieve partial result the nation would owe them a debt of gratitude. Neither by acts nor by words we should add to their difficulties," he said.
BJP had accused Padgaonkar of internationalising the Kashmir problem after he said a solution to the issue was not possible without involving Pakistan.
Jethmalani maintained that Pakistan was the "root of the problem" as it was sending infiltrators and terrorists to India who were working on its directions.
"Even then if you say you won't talk to Pakistan it is not realistic," he said.
When informed that BJP does not agree with his views, Jethmalani said one should "leave aside BJP".
"BJP has not done much thinking on this issue...We should not pay much attention to it (what BJP has said)....You join a political party because you have less disagreements with that party than any other. If you agree 100 per cent you cease to be a human being," Jethmalani said. PTI