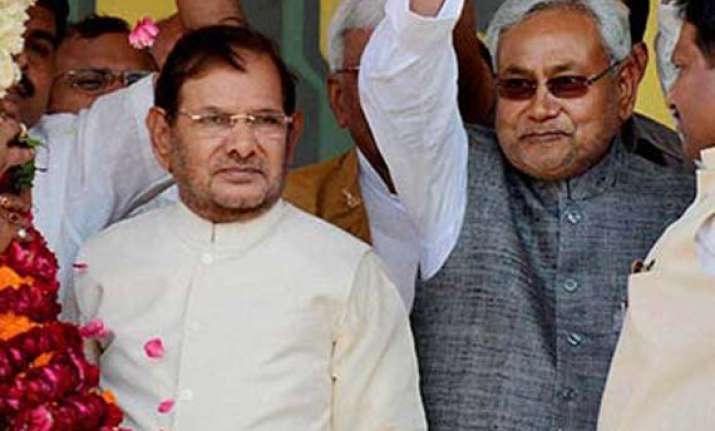 New Delhi: Former Bihar Chief Minister Nitish Kumar and JD(U) President Sharad Yadav will share the dais with RLD Chief Ajit Singh at a public rally in Meerut on Sunday amid ongoing efforts to bring together the splinter groups of the old Janata Parivar and Janata Dal.  
The same evening the duo will address another rally with INLD leaders in Haryana. JD(U) has already announced its support to Om Prakash Chautala-led INLD in the forthcoming Assembly elections.
Fuelling speculation of an alliance with Samajwadi Party, Sharad Yadav had on Wednesday shared the dais with SP supremo Mulayam Singh Yadav and said socialists have displayed unity at the time of crisis.
"Workers of all the splinter groups of the Janata Parivar want that we should be united. They are happy to see old Janata Dal leaders coming together. Leaders of all these parties have this pressure from workers. But we have to bring the leaders together.
"We have to resolve issues like how to secure everyone's political space decades after they parted ways and became separate powerful entities in their respective regions. The big task is how to create trust for each other among themselves," Yadav told PTI.
The remarks are not without any reason as so far some of these parties have also been fighting against each other.  While JD(U) itself had fielded candidates against SP in Uttar Pradesh in the past, SP had fought both against RJD and JD(U) in Bihar.
The JD(U) President has repeatedly made it clear that he will make efforts to "bring together all those who were part of the old Janata Parivar to fight the new political challenge".
JD(U) and RJD, both offshoots of Janata Dal Parivar, have already joined hands to form an alliance in Bihar and their alliance is likely to continue even for the Assembly elections due there next year.