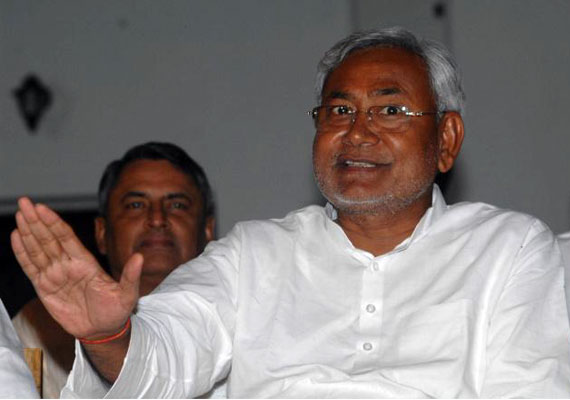 Patna, Jul 31: Indicating increase in acrimony among them post split, the BJP while reacting to Chief Minister Nitish Kumar's comment that he would cut them to size in next elections today said this would apply to his party.
Reacting to Kumar's comment in the state Assembly yesterday "woh punah mushko honge (the BJP will once again be reduced to a small party and put in its place," Leader of Opposition Nand Kishore Yadav told reporters "this would happen to JD(U) infact."
"When we had entered into alliance in 1998, Samata Party of Nitish Kumar which later merged with JD(U) had only 7 MLAs while BJP had 41," Yadav said.
"They would go back to the same position in the future elections," Yadav, who earlier served as Road Construction minister in the Nitish government and who was also state NDA convener, said.
Accompanied by senior BJP MLAs Prem Kumar, Arun Kumar Sinha, Binod Narayan Jha, Usha Vidyarthi and others, the opposition leader alleged "hidden" understanding between JD(U) and RJD.
"The CM had yesterday in the Assembly made a clear cut offer to RJD MLAs to join him...what other prove is required to prove their hidden understanding," Yadav said.
Yadav's reaction is a retort to Kumar who has on numerous occasions alleged pact between BJP and RJD citing they together calling bandh at Gaya after serial blasts and at Chharpra after midday meal tragedy.
The opposition leader alleged that the political contours is getting clearer in Bihar. "JD(U) will have a maha gatbandhan (grand alliance) with RJD, Congress and CPI while BJP will be the lone opposition party," he said.
Yadav avoided a question on Shatrughan Sinha calling NitishKumar a "PM material". He said since Sinha is a national leader, the central party leadership would deal with his utterances.