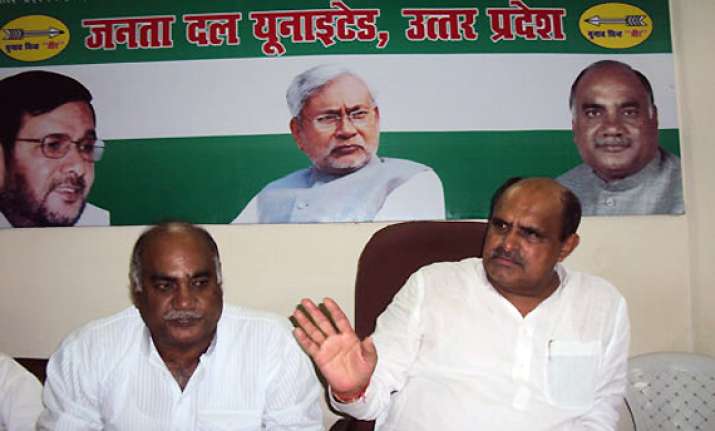 New Delhi, Dec 28: After the angry outburst of its chief Sharad Yadav, the JD(U) today said it's going ahead with the task of shortlisting candidates for around 100 seats for Uttar Pradesh assembly polls, but was still open to a tie-up with the BJP.

"We are going ahead with the process to shortlist candidates for around 100 seats in UP. Senior party leaders would assemble at Lucknow on January 5 to finalise the list of contestants," JD(U) General Secretary K C Tyagi, who is representing his party in the talks, told PTI. 

After strong reaction from Yadav, blaming the BJP for breakdown of seat-sharing talks and asserting that party would go alone in the polls in the politically crucial state, JD(U) is going ahead with its poll exercise. 

Yadav's outburst followed comments from senior BJP leader Venkaiah Naidu that except for Akali Dal in Punjab, the party would contest assembly polls in rest four states on its own.

BJP national vice-president Mukhtar Abbas Naqvi, who is spearheading the seat-sharing talks in UP on behalf of his party, said, "I don't think the alliance has fallen apart. 

"JD(U) is our tested ally and nothing is final (on seat-sharing) and there is no conflict on the issue of distribution of seats between the two old NDA-allies in UP", he said.

On JD(U) going ahead with finalising its candidate list, Naqvi said, "It is their decision, but I do not think that our alliance has fallen apart and we are still hopeful of reaching an amicable agreement."

Tyagi, a close confidant of Sharad Yadav, said, "We respect the sentiments of BJP. We will be the last party to step out of NDA coalition. It will be a sad decision if we have to contest the elections in UP alone."

But we are going ahead with our "contingency plan" (finalising candidates for 100 seats in UP), Tyagi said.