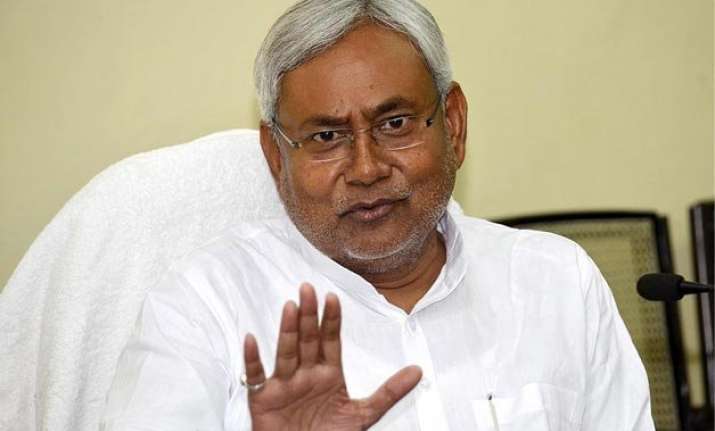 Patna: A tussle over seat-sharing between JD(U) and RJD in Bihar assembly poll started today with a senior RJD leader staking claim to 145 seats out of total 243 for his party, a demand which was rejected with disdain by JD(U) chief Nitish Kumar.
Former Union minister and the Rashtriya Janata Dal vice-president Raghuvansh Prasad Singh today said that RJD should get at least 145 out of a total 243 seats in coming Bihar elections, indicating tough posturing by the allies.  
Queried on the issue by the reporters, Kumar retorted, "Why 145? The entire 243 seats are available." Singh, who was addressing media, stressed that the 2010 Assembly poll results should not be the criteria for seat-sharing among RJD and JD(U) and instead strength of the party on the ground should be taken into consideration in deciding seats.
RJD President Lalu Prasad held a meeting with his party legislators yesterday.
JD(U) had won 117 seats in the 2010 polls in alliance with BJP while RJD was confined to 24 seats at that time.  Singh asserted that the situation has changed after break-down of NDA in Bihar on June 16, 2013.  
However, Singh's demand of 145 seats for RJD was summarily dismissed by Chief Minister Nitish Kumar.  In another reflection of "tensed" relationship between the RJD and JD(U), Kumar made a terse comment on RJD chief Lalu Prasad's demand that the state government should go to Supreme Court to challenge recent Patna High Court judgement annulling an old government order on promotion to SC & ST in jobs.
"The government is serious on such matters and there is no need to make any demand," he said.  "We are taking legal opinion on challenging the order," Kumar said while emerging from a government function of lay foundation stone of several schemes of PHED Department.
When asked on election of Bihar Legislative Council from local bodies scheduled in the middle of July over 24 seats, the CM said "a final decision among secular allies on number of seats each would contest is yet to be taken." State JD(U) President Basistha Narayan Singh has been authorised by the party to take a decision in this regard after talking to secular parties.
He talked to RJD and Congress leaders and soon a final decision on Legislative council election would be taken, Kumar added.