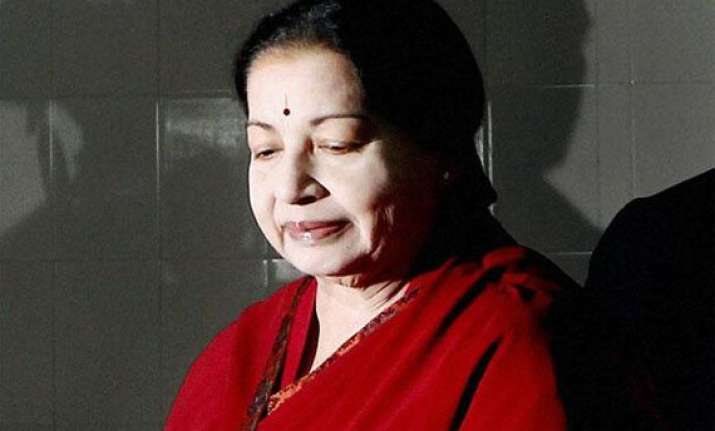 Bangalore: Jailed former Tamil Nadu Chief Minister J Jayalalithaa, who has been sentenced to four years imprisonment in a disproportionate assets case, failed to get bail from Karnataka High Court which told her that corruption amounts to "violation of human rights".
There "are no grounds" to give bail as corruption amounts to "violation of human rights" and leads to economic imbalance, observed Justice A V Chandrashekhara, who pronounced the order in a packed court room that came as a blow to Jayalalithaa and her supporters outside and elsewhere.
Indications are that the 66-year-old AIADMK chief  may approach the Supreme Court for relief possibly by tomorrow.
However, AIADMK MP and lawyer Navaneethakrishnan said they would have to take instructions from Jayalalitha.
Earlier, Special Public Prosecutor Bhavani Singh told the court he had no objection to grant of conditional bail to Jayalalithaa, who is in prison here since her conviction by the Special Court on September 27  in the disproportionate assets case.
As word of Bhavani Singh's stand spread outside, AIADMK supporters outside the court and those who had gathered near the Parappana Agrahara jail, where Jayalalithaa is lodged, went delirious anticipating her release and burst crackers.
But their joy was short lived as when the verdict came, they went into a state of disbelief. Scenes of jubilation gave way to wailing by the women gathered there, while men lay themselves flat on the ground shouting slogans.
"My client will take a call," senior counsel Ram Jethmalani, who appeared for Jayalalithaa, told PTI, after the verdict when asked whether they will approach the Supreme Court.
However, another lawyer of Jayalalithaa said she has no option but to approach the Supreme Court either tomorrow or on Thursday.
In his submissions, Jethmalani strongly pleaded for immediate bail to the 66-year-old leader citing the Supreme Court verdict granting relief to former Bihar Chief Minister Lalu Prasad in the fodder scam.
The court did not accept the submission, with the judge noting that Lalu Prasad had spent 10 months in jail before being granted bail by the apex court.
Jethmalani also pleaded for suspension of the sentence by the Special Court which had sent her to four years in jail.
He asked for suspending the sentence pending appeal under Section 389 of the Criminal Procedure Code, under which pending any appeal by a convicted person, the appellate court may order that the execution of the sentence or order appealed against be suspended. Also, if the person is in confinement, that he or she be released on bail, or on own bond.
The "regular practice" was to give bail, Jethmalani told Justice Chandrashekhara who took up the matter which was posted for today by the vacation bench on October 1.
Jethmalani also said appeals should be heard within a reasonable period of time.