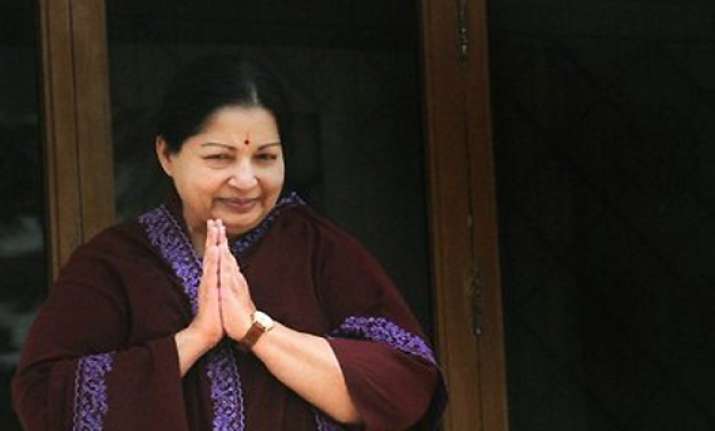 Chennai, Aug 6: On the eve of Vice-Presidential election, Tamil Nadu Chief Minister Jayalalithaa today extended AIADMK's support to NDA nominee Jaswant Singh, saying she firmly believes that there has to be an opposition in a true democracy.
"If we are to have a true democracy, there has to be an opposition in the country. Simply because the candidate put up by the ruling dispensation appears to have a winning chance, it does not mean that no one else should contest this election," Jayalalithaa told reporters after meeting Singh, who flew in here to seek AIADMK's support in the election.  
The AIADMK chief said her party's backing to Singh was mainly to "reinforce my strong belief, principle and conviction (that) in a democracy, there has to be an opposition."
"And that is why we are making our opposition known and felt and that is why the AIADMK has decided to support the candidature of Jaswant Singh," she said.  
Jayalalithaa recalled her 28-year-old association with the senior BJP leader in the Rajya Sabha since 1984, when she was a member of the Upper House and described him as one of the "finest" and "gentleman" politician in Indian politics.  
"So, it is a mark of my personal esteem and regard for Jaswant Singh, that the AIADMK has decided to support his candidature for Vice President," she said.  
Singh, who was accompanied by his election agent and BJP spokesperson Rajiv Pratap Rudy, said he was "indebted" to the AIADMK leader for her support to him.  
Both AIADMK and Odisha Chief Minister Naveen Patnaik-led BJD had backed P A Sangma for the Presidential election.  However, BJD has decided to abstain from voting in the Vice-Presidential elections.
Though the numbers are stacked highly against Singh and UPA candidate Hamid Ansari is virtually set to get a second term as Vice President, BJP is making all efforts to put up a respectable fight.
The AIADMK has 14 MPs in Parliament.