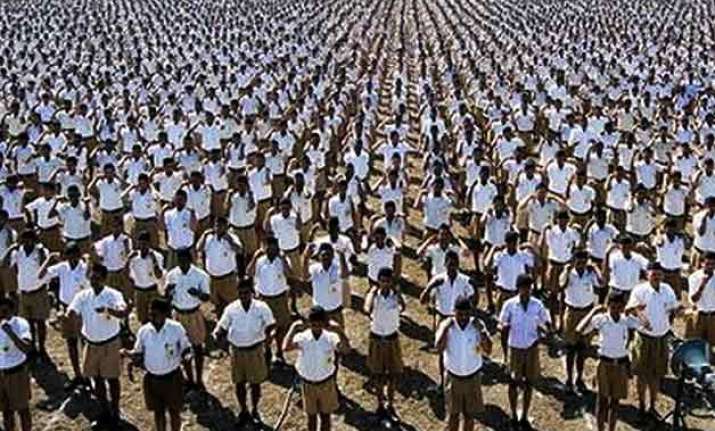 New Delhi: The RSS yesterday accused the Janata Parivar of propagating "untouchability" towards the Narendra Modi government and failing to treat people from the Scheduled Castes in UP and Bihar with dignity though its constituents claim to follow the ideals of Ram Manohar Lohia.  Sangh mouthpiece 'Organiser' in an editorial in its latest issue said that the formation of Janata Parivar against BJP emerges from the mindset of practicing new untouchability in the name of social justice and secularism. 
"On the one hand, it propagates injustice-untouchability towards Dalits in states like UP and Bihar and on the other hand practices antagonism-untouchability towards the Modi government at the Centre," it said.
After facing rout in Lok Sabha elections, Nitish Kumar resigned from the chief minister's post on moral grounds and installed Jitan Ram Manjhi as a "puppet CM", it said.  "When Manjhi started asserting himself, he was removed unceremoniously from the post without any justification; how, suddenly, the moral responsibility of Nitish Kumar for the electoral defeat changed within ten months time is no difficult task to guess.
"That the continuous humiliation of a long time colleague in the name of caste is practiced in the name of Ram Manohar Lohia and social justice is perhaps more shameful," it said.  It said unfortunately leaders claiming political legacy of Lohia—Mulayam Singh, Lalu Prasad and Nitish Kumar—are not treating leaders and people from Scheduled Castes with dignity.
"At the same time, they have introduced new kind of untouchability in Indian politics. It was Lalu who connected the bogie of secularism to social justice when Atal Behari Vajapayee formed government in 1996. Nitish who for his personal ambitions allied with the BJP for 15 years in Bihar broke the alliance on the issue of Modi being the Prime Ministerial candidate, by raising the flag of secularism.
"Mulayam Singh Yadav who cannot see Mayawati eye to eye conveniently hobnobs with Congress, Communists and old socialist friends and with regrouping of Janata Parivar, they are reviving this untouchability against the Modi government," the editorial said.
It claimed that the legacy of Lohia has been "reduced to opportunism, ambition and casteism." Patting the BJP, it said  a party which was a political untouchable in 1990s has got to the centre stage in Indian politics.
"While doing so the idea of Inclusive Hindutva has been the base. That is why Deeksha Bhoomi renovation in Nagpur, Dr Ambedkar birth place memorial at Mhow in Madhya Pradesh and now another memorial near Chaitya Bhoomi in Mumbai could take place under the governments of the party labelled as Brahminical," it claimed.