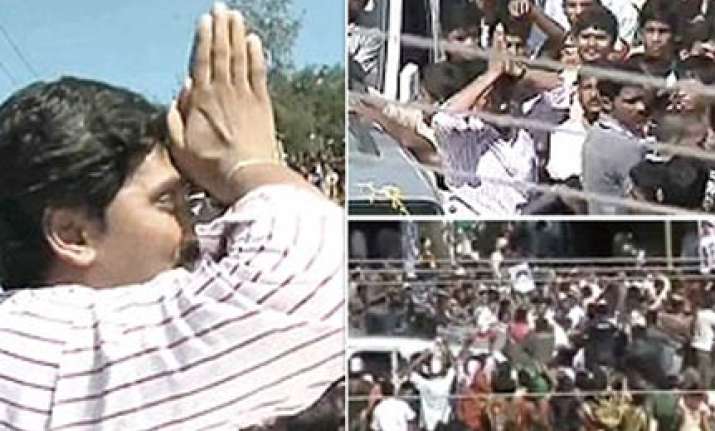 Hyderabad/New Delhi, Nov 29: After months of defiance, rebel Congress MP Y S Jaganmohan Reddy today resigned from the party and quit his Lok Sabha seat from Andhra Pradesh, accusing party chief Sonia Gandhi of backing 'forces' against him and who are trying to erase the YSR legacy.
Alleging that the party leadership had "insulted and humiliated" him and his family, the 37-year-old MP from Kadapa, who always nursed hopes of succeeding his father Y S Rajasekara Reddy(YSR) as AP Chief Minister after he died in an helicopter crash 14 months back, is likely to float a new party.
Jagan while announcing his decision to quit Congress in a five-page 'open letter' to party President Sonia Gandhi also said his mother Vijayamma, who is an MLA from Pulivendula in Kadapa, would also quit her post and the party.
The Congress remained unfazed over Jagan's action, saying it would have no impact on the party in Andhra Pradesh, calling the decision unfortunate and maintaining that no individual was bigger than the party.
"The decision is most unfortunate and misguided," Moily, who is also AICC in-charge of Andhra Pradesh, told reporters.
Asked whether the development will weaken the party, Moily remarked "the party is very strong there".
"I have been suffering humiliation in silence during the last 14 months. A malicious campaign was being unleashed against me, my family...Deliberate attempts were being made to wipe out the imAge of Rajashekara Reddy from the hearts of the people...I realised unfortunAtely these forces have the blessings of none other than the party High Command itself," Jagan said.
"My family is in a situation created by the forces (behind the campaign) with the blessings of the party High Command. My mother and I have decided to resign from the primary membership of the party. We have no other option."
Jagan will soon announce the launch of his new party -- Youth Sramik Ryot (YSR) Congress -- in Kadapa, sources close to him said.
He faxed his one-line resignation letter to Lok Sabha Speaker Meira Kumar, LS sources said in New Delhi. The letter is being examined by the Speaker, the sources said.
The belligerent MP, in his letter, also accused the Congress leadership of trying to drive a "wedge" in his family by "luring" his uncle Y S Vivekananda Reddy, a member of the state Legislative Council, with a berth in the Kiran Kumar Reddy government in Andhra Pradesh.
"I have been observing utmost restraint...But the last straw was the conspiracy that is being hatched to vertically split the family," he added.
"For the last 14 months, I have been enduring several insults... my mother was forced to wait for a month(to meet Sonia) whereas some new friends(Chiranjeevi) who opposed Congress could get your audience within 24 hours," he told the AICC president.
Jagan also accused the Congress of launching a "vicious campaign" aimed at "my character assassination" and that he was conspiring to dislodge the state government.
He sought to assure the high command that he posed no threat to new Chief Minister Kiran Kumar Reddy and appealed to party MLAs in AP not to quit their posts "for me."
The MP also pointed out that he respected Sonia's wish on his father's successor's issue despite 150 MLAs supporting his candidature.
The young leader had been sulking for over a year as the Congress refused to concede his demand for making him Andhra Pradesh Chief Minister after his father's death. PTI