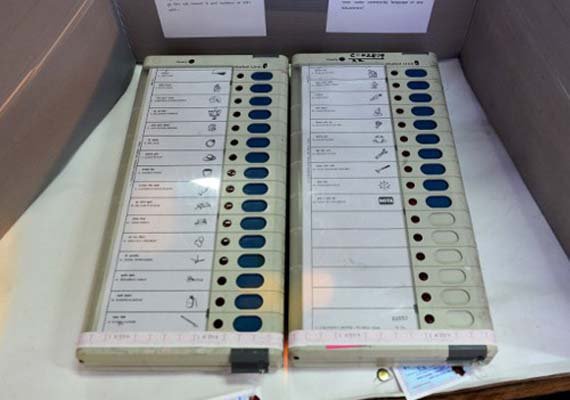 Jammu: Most political parties including BJP, ruling NC, PDP and JKNPP are all set to go it alone in the five phased electoral battle for 87 constituencies in Jammu and Kashmir Assembly.
Even as the Election Commission today issued notification for the first phase of elections in the state, the political parties are yet to come up with their manifestos and list of candidates.
While national parties such as BJP, BSP, NCP have indicated that they would contest on all 87 seats, National Conference (NC) ally Congress is tight-lipped about any pre-poll alliance.
On the other hand, regional parties such as NC, People's Democratic Party (PDP) and JKNPP have also decided to go it alone in the five-phase elections beginning November 25.  
Ruling out any pre-poll alliance in the state, BJP yesterday said it will contest in all the 87 constituencies and exuded confidence that it would win more than 44 seats.  
"We won't be entering into any pre-poll alliance with any political party as we are considering to field our candidates on all the 87 assembly constituencies in the state," BJP MP and party in charge for Jammu & Kashmir Avinash Rai Khanna had said.
"We will go beyond 44 seats and form the next government in Jammu and Kashmir," he added.
BSP also announced to go it alone in the upcoming elections. "We will have no pre-poll alliance with political parties. We will go it alone to contest elections," BSP's J&K chief Tulsi Dass Langeh told PTI.
"We have planned to contest on all 87 seats in the State.  Names of the 60 candidates have been finalized and rest are in process," he said.
Nationalist Congress Party (NCP), ally of Congress in previous UPA government at the Centre, has also chosen to fight the electoral battle on its own.
"We will contest elections in the state alone. There will be no pre-poll alliance with any party," NCP's state chief Thakur Randhir Singh told PTI.
He said that NCP has already finalized the candidates for 15 Assembly seats and the process is on to select others.  
Ostensibly, Congress has been close-mouthed about its pre-poll alliance although its ally NC and PDP has decided to go it alone.
When asked about any pre-poll alliance yesterday, Congress' state chief Prof Saif uddin Soz did not reply on the issue.
"The candidates would be announced within a couple of days. We are working on it," Soz had said.  Asked whether NC will go it alone in the polls, party's provincial president for Jammu region, Devinder Singh Rana replied, "yes, it is evident".