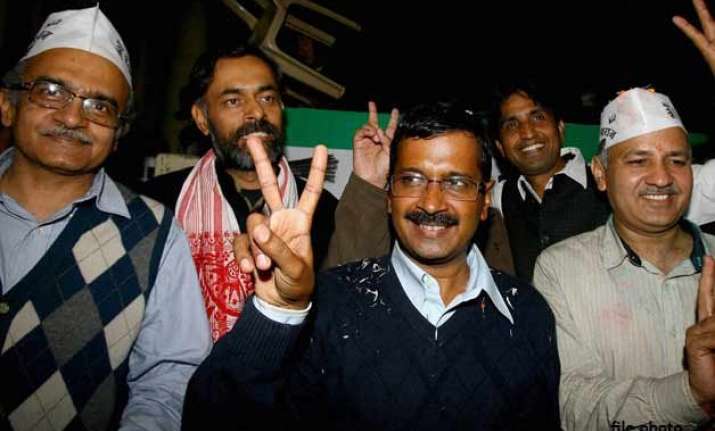 New Delhi: With AAP witnessing internal power struggle, its political rivals today said the party's claim that it was a 'party with a difference' had fallen flat and it was just another political organisation struggling with "individual-centric" functioning.
While Congress alleged that AAP lacked a strong party constitution, the BJP said the party was operating in a "dynastic and individual-centric" manner which was similar to some regional parties, a view echoed by NCP.
"From whatever has been going on in the party, it seems it is no different from parties led by Lalu Prasad Yadav (RJD) or Mulayam Singh Yadav (SP). It is nothing but a parivar (dynastic) or individual (centric) party with Arvind (Kejriwal) alone dominating the party," said BJP spokesman GVL Narsimha Rao.
"They came to power claiming a new era of politics to bring about a radical transformation. But what you see now is the degeneration of AAP..." he added.
Former AAP member and now a BJP leader, Shazia Ilmi, alleged that Kejriwal was "scripting" the developments. "It was a planned script, Kejriwal is the director and producer of the script," she charged.
Congress alleged that AAP lacked a strong constitution, which has resulted in the internal power struggle.
"You actually require a very strong constitution and a strong digestive system to digest and absorb power. And, therefore, it seems, AAP is unable to digest the loaves and fishes of office. And that is why you see this entire ugly spat come out in the open," Congress spokesperson Manish Tewari said.
The Congress leader also taunted Kejriwal, saying, "Because the (party's) digestive system is weak, some people require naturopathy treatment."
Tewari's comment comes against the backdrop of Delhi Chief Minister Kejriwal going for naturopathy treatment in Bangalore over complaints of chronic cough and high sugar level.
The NCP, too, said that the AAP was like any other party. "From the infighting and struggle going on within the outfit for power, it is clear there is no difference between other parties and the AAP," said NCP leader Tariq Anwar.
Following internal rumblings within AAP, two founder- members, Yogendra Yadav and Prashant Bhushan, who were on collision course with Kejriwal, were voted out of the party's Political Affairs Committee, its highest decision-making body.
Bhushan, in a letter to the AAP national executive last week, had said that the "one person-centric" campaign of the party for Delhi Assembly elections had made the party look like other parties and called for more "swaraj" within the outfit.
Along with Yadav, he also gave a joint letter to the national executive and demanded activation of an ethics and grievance committee.