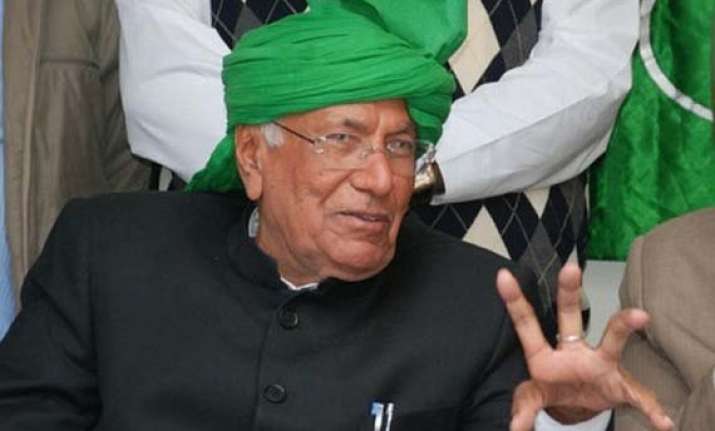 New Delhi: Indian National Lok Dal (INLD) chief Om Prakash Chautala on Friday appeared in a Delhi court in connection with a disproportionate assets (DA) case and sought exemption from appearance which was opposed by CBI.
79-year-old Chautala turned up before Special CBI Judge Manu Rai Sethi in pursuance to his direction to remain present in court in person on Friday. The INLD chief had moved the application yesterday seeking permission to participate in the ongoing Haryana election campaign.
However, special public prosecutor Ajay Kumar Gupta opposed Chautala's plea saying he should not be allowed exemption from personal appearance as he is deliberately not attending the court proceedings.
The CBI also said that from last many occasions he is taking exemption on grounds either related to health or some other pretext. The agency also said that Chautala could not be given exemption to attend rallies as the court, while granting regular bail, had asked him to appear regularly during the trial.
Meanwhile, CBI on Friday moved an application seeking service of "court notice" issued by the Delhi high court upon the accused, as he is deliberately ignoring it. The court recorded evidence in the DA case.
Gupta also submitted that the court notice was issued to Chautala in junior basic trained (JBT) teachers recruitment scam case yesterday, directing him to appear before it today at 10.30 am.
Allowing the CBI's contention, the court served the notice issued by the high court to Chautala, who assured his presence there.
Chautala was sentenced to 10-year imprisonment by a Delhi court on January 22, 2013 for illegally recruiting 3,206 JBT teachers in the state in 2000.
"Without going into the controversy being raised by the applicant (CBI), as the accused appearing before this court, as well as his counsel is not opposing the service of the high court notice before this court.
"Let the notice be served upon Chautala who has informed that he has to appear before Delhi high court, in respect of his appeal pending there at 2.15 pm," the court said.