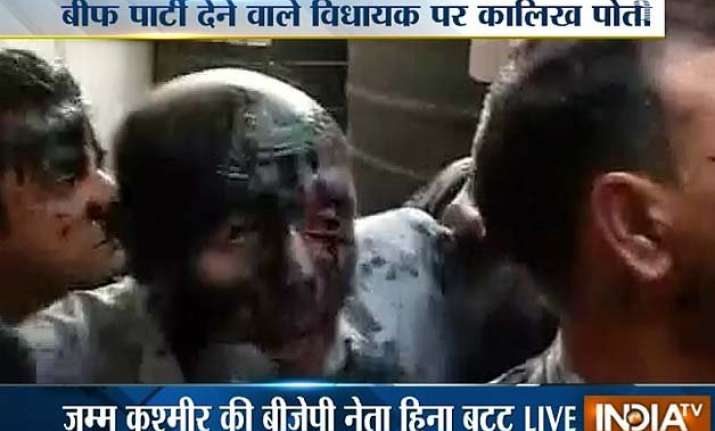 New Delhi: Jammu and Kashmir MLA Abdul Rashid Engineer was today attacked with ink and mobil oil in Delhi's Press Club for hosting a beef party in MLA hostel in Srinagar  a few weeks ago. The police have arrested two people for carrying out the attack.
According to reports, three men set upon him and threw black ink on him.  A lesser known group Hindu Sena has claimed responsibility for it.
"People talk of Talibanisation of Pakistan, look what is happening in India," Mr Rashid said after the attack. "They are mentally ill. 80,000 people have died in Kashmir; putting ink on one Engineer Rashid will not change anything." Mr Rashid said after the attack.
Meanwhile Rashid while speaking at Delhi Press Club, "What I do with my cow is my wish. What do others have to do with my cow?"
"This is Talibanisation of India. This is Modi's India and not Gandhi's India. I don't know them (those who targeted them). I just want to tell them that Kashmir has seen death of over 80,000 people, putting ink o on Engineer Rashid's face will not solve the issue," Rashid said while talking to reporters immediately after the incident.
He was holding a press conference at Press Club here along with relatives of the two truck drivers who were burnt by a mob at Udhampur in Jammu region on October nine. One of the victims--19-year-old Zahid—died at Safdurjung hospital yesterday morning.  
As he finished his press conference, he was held at the gate of the Press Club by some TV journalists for a one-to-one interview when some activists shouting slogans "gow mata ka apman, nahi sahega Hindustan (India will not tolerate any disrespect to cow)" pounced on him and painted him with black colour, mobil oil and blue ink.
Some of the TV journalists as well as policemen also received colours on their faces as well as clothes while trying to save the MLA from the mob.  Two people were detained by the police and whisked away to Parliament Street Police station while Rashid had to take refuge inside the Press Club till additional force came in.  
"They are mentally sick. I want the whole world to see this how these people are trying to muzzle the voice of Kashmiris," Rashid, who was beaten by BJP MLAs in the state assembly for hosting the beef party, said after the attack.  The incident came after he had made comments at the press conference about the beef party organised by him inside the MLA hostel in Srinagar.
"I do not eat beef, mutton, or chicken but that was a form of protest to tell the authorities that do not interfere in anyone's religion," Rashid had explained to reporters during the press conference when he was asked about him violating the sentiments of the people.
The conference was called by him after the death of Zahid along with the relatives of the two truck drivers to demand that Prime Minister Narendra Modi should apologise for the Udhampur incident.
"If the UP government can be held responsible for Dadri incident, then BJP is equally responsible for the Udhampur incident along with its ally PDP," he said.  The relatives of the two—Zahid and Showkat—who were sleeping in the truck when it was attacked by a mob with petrol bombs alleged that Mufti Sayeed Government was "threatening, abusing and warning" their family members from speaking to the media.
"Mufti Sayeed will have to pay for this. Is this democracy that India boasts about. Its worst," Mohammed Ashraf, kin of Zahid, said after his face was also blackened.