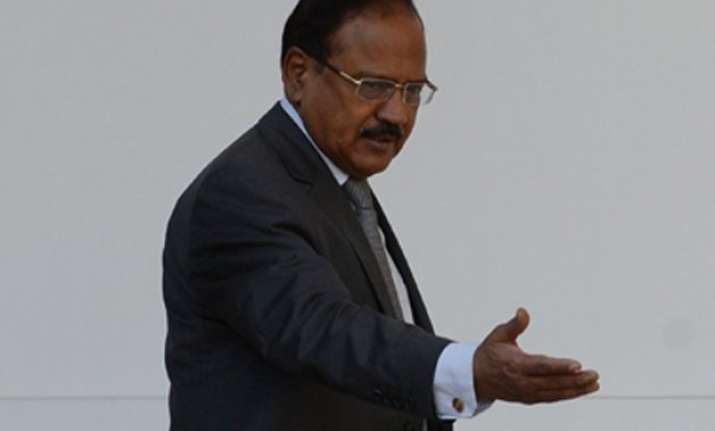 New Delhi: National Security Advisor (NSA) Ajit Doval today flatly refused that he gave an interview to a daily, where he stated that the January 15 Indo-Pak Foreign Secretary level talks have been cancelled.
Speaking to India TV, Doval said, "I strongly deny that I made such a statement. I did not give any interview."
In the midst of uncertainty in the wake of the Pathankot terror attack, Hindi daily Dainik Bhaskar, while citing Ajit Doval, reported that India has called off January 15 Foreign Secretary-level talks with Pakistan.
"We have only one policy towards Pakistan. Till the time Pakistan doesn't take action against the perpetrators of Pathankot attack to out satisfaction, there will be no peace talks. Keeping this development in mind, India has cancelled the foreign secretary-level talks with Pakistan on January 15," he was quoted as saying in the report.
 
Putting the ball squarely in Pakistan's court, India has linked the Foreign Secretary-level talks to Islamabad's 'prompt and decisive' action on the Pathankot terror attack for which it has provided 'actionable intelligence'.
Uncertainty prevails on talks scheduled for January 15 in Islamabad between Foreign Secretary S Jaishankar and his Pakistani counterpart Aizaz Ahmad Chaudhry following the terror strike on the Pathankot air base which originated from Pakistan.
Meanwhile, Pakistani Premier Nawaz Sharif's Adviser on Foreign Affairs, Sartaj Aziz, has said that 'scheduled talks was still intact as no communication for its cancellation has been received from New Delhi'.
"The situation would become clear... the January 15 talks have neither been confirmed nor cancelled by India," he said.