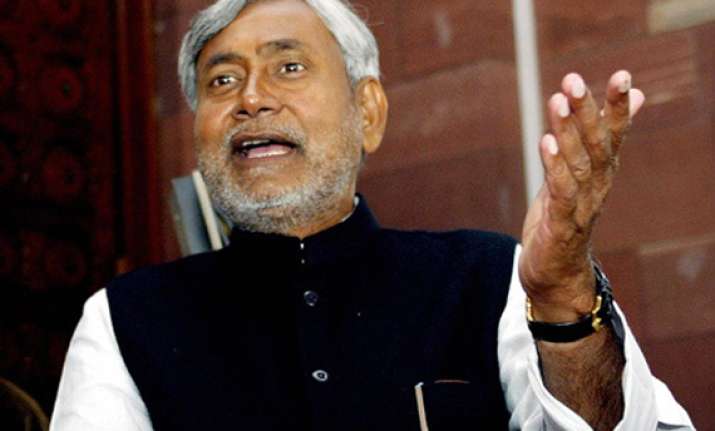 New Delhi, Jun 21: In a veiled attack on Narendra Modi days after JD(U) split from NDA, Bihar Chief Minister Nitish Kumar today asserted that the country needs a leader who can unite and not a "divisive" figure.
"We had already told the BJP about our apprehensions. We cannot have a man who is a divisive figure. Our diverse country needs a man who can unify," Kumar told CNN-IBN.
JD(U) broke its 17-year-old alliance with the NDA in the wake of BJP anointing Modi as chief of the party's election campaign committee for the 2014 Lok Sabha polls.
"A personality-oriented atmosphere has been created in BJP now. All the discussions now centre around that," Kumar said.
Kumar was all guns blazing over BJP's decision on Modi. "First, you make it a personality driven affair and after a hue and cry, you say we are opposing the person. But do the people not understand the agenda behind this," he said.
"There should not be polarisation. The polarising figure should not overshadow the issues confronting the country...Can the development model of a developed state like Gujarat become the model for the entire country? There are many backward regions in the country," he said.
Asked about his 2003 statement praising Modi, Kumar said, "After the 2003 statement, there was 2005 election in Bihar. Why did not they call him to Bihar? Why did not they ask him to come in 2009?...I have also talked about what happened in 2002 in that speech."
Accusing the BJP of creating a "new dispute" by anointing Modi, Kumar said everything till then was going fine between JD(U)'s alliance with BJP in Bihar and its relations with NDA at the Centre.
Kumar scoffed at BJP's hopes of coming to power in the next general elections.
"This is the time of coalition. Even if you take the NDA together, there is no chance of majority for the alliance, forget about the BJP getting majority on its own.
"We have said that if you have to lead an alliance, then you have to give an unblemished leadership," he said in an apparent reference to the 2002 Gujarat riots when Modi was the Chief Minister.
Kumar said BJP as the largest party of NDA should declare its leader before the election. "This has been the tradition. But the leader must be one who knows how to take all the allies together."
He recalled that under Atal Bihari Vajpayee's leadership, NDA had 24 allies at one point.
Asked about Modi's elecation, he said the BJP was free to do whatever it wanted within the party. He said in 2004, Pramod Mahajan was made incharge of the BJP election campaign committee and Arun Jaitley in 2009. "But there was no such 'taajposhi' (coronation)" at that time"
Accusing the BJP of "deviating" from all the core issues of NDA's national agenda, Kumar said the "euphoria" created today was "meaningless".
Kumar said the mandate his party got in Bihar was for the developmental work done in the state, not because of any external factor.
"The euphoria created today is meaningless. One can only form the government at the Centre after having 272 MPs."
Rubbishing the allegation that JD(U)'s decision to snap ties with the NDA was aimed at consolidating its Muslim vote bank, Kumar said, "The Muslims also have an equal right. Why are you terming them as a separate block. We are going with the consensus of the country of a liberal democracy."
The Chief Minister said there was a "tactical" understanding with the BJP but there was no ideological compromise.
"We did not betray the BJP. Charges that I am an opportunist are baseless. We joined NDA only after assurance that contentious issues like Ram temple, non-imposition of Article 370 and Uniform Civil Code will be put on hold," he said.
"We had conveyed our apprehensions to the BJP. We had told BJP not to name a leader without consulting allies. The new BJP model cannot carry everyone along. BJP has deviated and taken a different position," Kumar said.
Debunking the Gujarat model, the Bihar Chief Minister said one model cannot work for entire India.
"There are different growth models for different states. We developed Bihar which was underdeveloped. Growth should not be of corporates but of underprivileged," he said, taking a dig at Modi under whose chief ministership some big business houses have prospered in Gujarat.
Asked about Modi trending on social media, he said, "This trend is very dangerous. Country can't be run by publicity campaign on social media.